Oh my lanta!!! A low calorie hollandaise!  That actually tastes good!! Getouttahere!
Can you believe this hollandaise sauce only has 8 grams of fat per serving and only about 110 calories!!  Holy buckets batman! I can hear that bikini calling my name! Okay… no I can't, but still… this is about as guilt-free as a splurge food can get. I am not exaggerating when I say this is the best hollandaise sauce I have ever made. And it is low calorie AND reduced fat! HOLLA!!!
Holla… Hollandaise… get it? Yes. I just did that because I am a total nerd.
Anyhoo…
Can you see how silky and satiny and creamy this is? It's a smidgen lighter in color than a traditional hollandaise, but unless you have them side-by-side I doubt anyone would ever even notice. The texture is spot on, and you still get the richness without the heavy, buttery mouth-feel that you're left with after eating a traditional hollandaise. AND it only takes about 10 minutes! Can I get a whoot whoot?
Because of all these reasons, I declare that heretofore, I am never going back to the classic. Only this low cal version for me.
Oh, and it's made with grapefruit juice.
Say What?
One of the reasons I decided to try a low fat hollandaise sauce was because I knew I was going to use it in a leftover-makeover recipe to create a Ham And Cheesy Hash Brown Eggs Benedict, and let's be honest, my ham and cheese hash browns are are not exactly on the "light" side of the calorie slider. So, I figured with a splurge should come a little moderation. Plus I was making this for lunch and I didn't want to battle the dreaded food coma which always shows up after I eat a heavy, super rich meal. The grapefruit juice addition was simply being Foodie*ish and making due with what I had. And being honest, my husband said he MUCH preferred the grapefruit juice version to the traditional lemon juice version (I can be a bit heavy handed with lemon in everything). The grapefruit juice gave it a subtle citrus flavor, and you don't really pointedly recognize it is grapefruit. It is light and bright, and, well… perfect.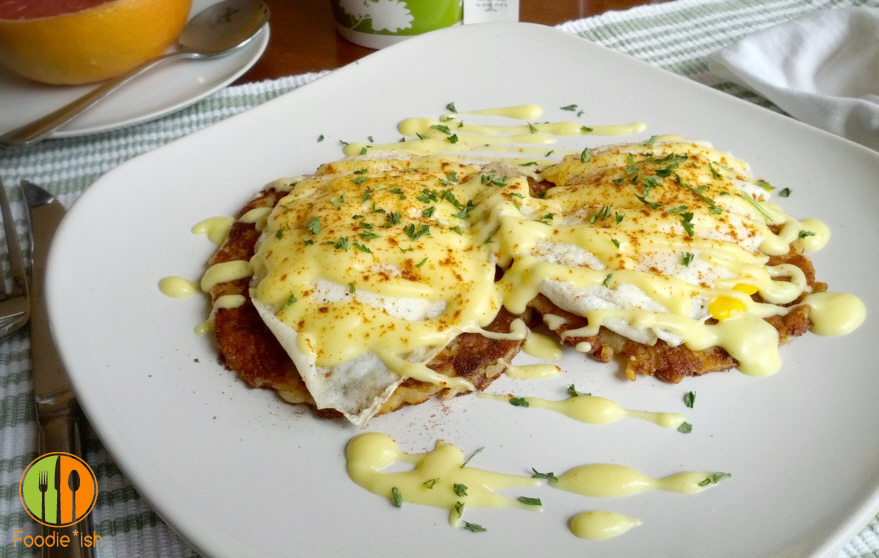 See those crispy hash browns cradling those eggs… that was my creamy ham and cheesy hash brown casserole. Yes. Yes it was…
Anyway…
I based this hollandaise recipe on one I had read in a Rachael Ray magazine years ago. She used a chicken broth from what I recall, and I remember thinking, "wow, that is like gelatinous chicken soup". Pretty cool gastronomy, but not exactly what you're going for when making Eggs Benedict. But she was definitely on to something with the technique, so I made a couple simple changes and Bam! Just like the hollandaise you know and love, without the added calories.
This is super simple and quick, and you can put your own foodie*ish spin on it… I think I'm going to try it with orange juice and add a little basil for a more savory sauce that would be perfect on roast chicken or scallops. I can imagine some lime and a hint of cayenne would be wicked awesome for a chili-lime Eggs Benedict with chorizo instead of Canadian Bacon. The possibilities are limitless! AND LOW CALORIE!!  Yay!!! So grab the recipe for my delicious low-cal hollandaise sauce over here and make the best guilt-free eggs bennie ya ever did try!
Low Calorie, Reduced Fat Hollandaise Sauce
Super delicious, super quick, no-guilt hollandaise
Ingredients
2 TBSP butter, chilled
1 TBSP all-purpose flour
1/2 cup water
2 large egg yolks
3 TBSP fresh grapefruit juice
salt and pepper to taste
Instructions
Melt butter over medium heat. When melted, add flour to create a loose roux. Cook for about a minute, or until fragrant but not browned.
Add water and whisk thoroughly. Add egg yolks and whisk vigorously to incorporate. Turn heat down to medium-low. Add 2 TBSP Grapefruit Juice.
Continue whisking continuously until sauce thickens (about 5-7 minutes). Taste and adjust seasoning and add additional grapefruit juice as needed.
Recommended Products
This site contains affiliate links to products. If you click-through and purchase an item, you will not pay a penny more than you otherwise would, but we may receive a small commission to help us keep the food in Foodie*ish. Thanks for your support!
Nutrition Information:
Yield:

4
Serving Size:

2 TBSP
Amount Per Serving:
Calories:

112
Total Fat:

9g
Saturated Fat:

5g
Trans Fat:

0g
Unsaturated Fat:

4g
Cholesterol:

154mg
Sodium:

158mg
Carbohydrates:

3g
Fiber:

0g
Sugar:

0g
Protein:

4g
This website provides approximate nutrition information for convenience and as a courtesy only. Nutrition information can vary for a recipe based on factors such as precision of measurements, brands, ingredient freshness, or the source of nutrition data. We strive to keep the information as accurate as possible, but make no warranties regarding its accuracy. We encourage readers to make their own calculations based on the actual ingredients used in your recipe, using your preferred nutrition calculator.