Yay!  It is a rare Saturday when I don't have a hundred things to do. A rare Saturday where I get to sleep in (relatively) and wear my bathrobe while I drink coffee. A rare Saturday where a slow-baked ham and cheese hash brown casserole is totally do-able.  Oh, lazy Saturday, how I love thee…
My typical Saturdays have me rushing around in the morning: going to hockey practice, coming back home to fix lunches, putting kids to nap, tearing off to the grocery to stock up for the week, and then finally, coming home where I rush to get everything put away and then start dinner. It's not my idea of relaxing. But today was different. Today, there was no hockey and no grocery shopping, and my husband wasn't working. In fact, it was his idea to use our rare lazy Saturday to concoct a yummy breakfast (and thus this fabulous ham and cheese hash brown casserole). He has been working 12 hour days for the past, well as long as I can remember, and he just had it. Well, actually, yesterday he had it… when a gal in a minivan drove through a huge puddle sending a wave of gutter water over him like in the movies. 4 hours from home. — yikes!  and Awww… 🙁
So this morning he vowed, no working. Only eating and napping. I think my reaction was something to the effect of "HOT DAMN!" and then I started to whip up this oh-so-delicious, creamy, cheesy, hearty ham and cheese hash brown casserole.
I mean, let me just give a shout-out to you, cheesy deliciousness that is my ham and cheese hash brown casserole. You, sir, are a star! I created this bad-boy a couple years ago when I had both my in-laws and my parents staying at my house for Christmas, and needed something I could prepare ahead of time and pop in the oven for breakfast Christmas morning. I paired it with a super fantastic spinach-artichoke & smoked sausage egg bake. That is also a must-have in your prepare-ahead breakfast foods arsenal, so I will definitely share that as soon as I can. But this ham and cheese hash brown casserole could easily have been the main event. It is filling, but not heavy. And has all the food groups: Protein, starch, and cheese. Wait… what????
There are more than that?
Well… hmmm.
Not today!
I think the real secret is most hash brown casserole recipes call for butter, which I omit and replace with…
wait for it…
Alfredo sauce!  Light Alfredo sauce in this case because, like a guy who orders a Diet Coke with his Big Mac, I try to be calorie conscious.
Sorta.
Sometimes.
Well… hmmm.
Not Today!
I also use four cheeses and add some paprika and ground mustard.
Oh, and HAM!  Ham and cheese are like peas and carrots. They are a match made in food-heaven. You simply can't go wrong with ham and cheese. Not ever, not no how.
And because I am lazy on my lazy Saturday, I didn't even procure the goods. I had the Mr. do it. And he got the wrong cheese (I wanted a double block of cheddar… like 16 oz instead of 8oz of sharp cheddar, but he got a marbled white and mild cheddar– a double cheddar 😉  but no prob, Bob… this is Foodie*ish, so we made do. And ya know what? I think his accident was a blessing because it was perfect. Mild and creamy, not over-powering like a sharp cheddar sometimes can be when combined with other delicate flavors. Scrumptious!
So good on ya, accidental food dude! You won Saturday with your double cheddar! Yay!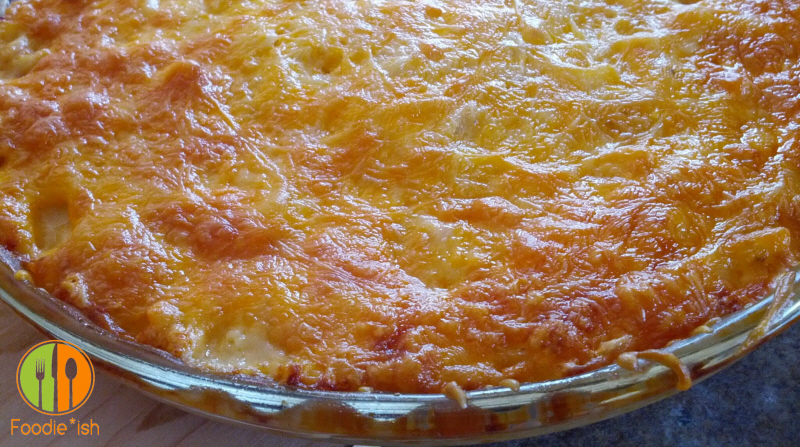 And like most recipes I create, you can literally change this up a thousand ways, with whatever you've got on hand. Use sausage instead of ham; introduce a little spinach or mushrooms. Or switch it up and add a little saffron and sub the ham for chorizo, toss in a red pepper and you've got a sorta-Spanish version.
Oh my… that sounds so good. I'm gonna write that one down. That is a must try!
So here we go, my rich and creamy, velvety and satisfying, hammy and cheesy, Ham and Cheese Hash Brown Casserole.
Ham and Cheese Hash Brown Casserole
Additional Time:
15 minutes
Total Time:
1 hour
30 minutes
Delish ham and cheesy hash brown casserole - perfect for any brunch
Ingredients
1 can cream of potato soup
1/2 cup jarred light alfredo sauce
1/2 cup sour cream
1/8 tsp ground mustard
1/4 tsp paprika
1/3 cup yellow onion - finely chopped
5 oz colby-jack cheese - shredded
3 oz marbled cheddar - shredded
3 oz ham steak- diced
20 oz bag pre-shredded hash brown potatoes
salt and pepper to taste
1 TBSP butter (for greasing pan)
Instructions
Preheat oven to 350. Shred cheese into a large bowl and fluff to combine. You should wind up with about 3 cups of freshly shredded cheese. Dice ham steak into small 1/2 inch bites.
In another large mixing bowl, combine cream of potato soup, sour cream, Alfredo sauce, ground mustard, paprika, onion, and salt and pepper until combined. Combine 2/3 of the shredded cheese mixture
To the sauce mixture, add 2/3 (roughly 2 cups) of the shredded cheese and ham and gently stir to combine.
Add thawed pre-shredded hash brown-cut potatoes, and thoroughly incorporate into the sauce and cheese.
Grease a 9 1/2 inch glass pie pan or 6″ x 9″ glass baking dish with butter. Spread the hash brown mixture evenly in the pan and top with remaining 1/3 (roughly 1 cup) shredded cheese.
Place in oven, uncovered on center rack and bake for 1 hour, or until bubbly and cheese starts to get golden. Let stand for 15 minutes before serving.
Notes
This can be prepared a day in advance. just pop in the oven when you are ready. You may need to adjust baking time by up-to 15 minutes. When it is golden brown on top, it is ready.
Recommended Products
This site contains affiliate links to products. If you click-through and purchase an item, you will not pay a penny more than you otherwise would, but we may receive a small commission to help us keep the food in Foodie*ish. Thanks for your support!
Nutrition Information:
Yield:

6
Serving Size:

1
Amount Per Serving:
Calories:

407
Total Fat:

27g
Saturated Fat:

16g
Trans Fat:

1g
Unsaturated Fat:

9g
Cholesterol:

84mg
Sodium:

1124mg
Carbohydrates:

24g
Net Carbohydrates:

0g
Fiber:

2g
Sugar:

2g
Sugar Alcohols:

0g
Protein:

17g
This website provides approximate nutrition information for convenience and as a courtesy only. Nutrition information can vary significantly for a recipe based on factors such as precision of measurements, brands, ingredient freshness, or the source of nutrition data. We strive to keep the information as accurate as possible, but make no warranties regarding its accuracy. We encourage readers to make their own calculations based on the actual ingredients used in your recipe, using your preferred nutrition calculator.