I'm pretty sure this is my new go-to appetizer for any get-together I ever have. Ever. Caramelized onions with apricot preserves, spread all over a perfect thin crust and topped with seared smoked sausage and Gouda cheese… Um… yes. Gimme, gimme, gimme!!! It is super rich and decadent, but also a perfect bite… savory, smokey, sweet. OMG. It truly is one of the best pizza appetizers I have ever had.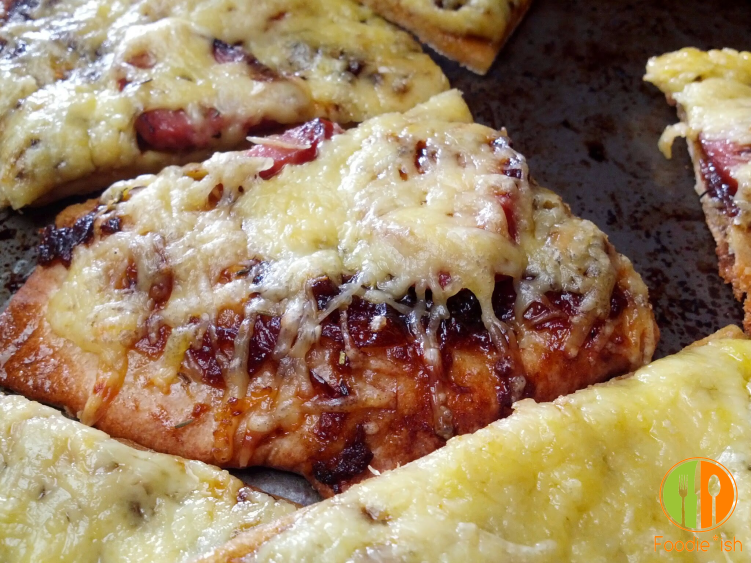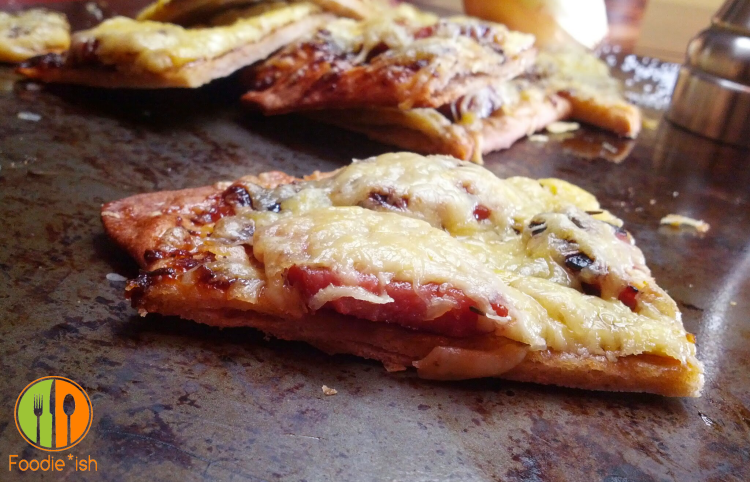 Now, I say appetizer, because a little goes a long way. It is RICH. Like not so rich you can't eat a whole small pizza yourself (I wouldn't know… I never did that. Nope. Not me, uh uh) but rich enough to share (if you're into that, which I am not, so…). And I would honestly never make this on a traditional hand-tossed crust. That would be just too damn much. So, I strongly advise you to stick to the thin crust, and if you're looking for a perfect crispy thin crust recipe, wouldn't ya know… I have one!  (The orange words will take you there, just in case this is your first time on the internet, And if so, welcome! And also, wow.)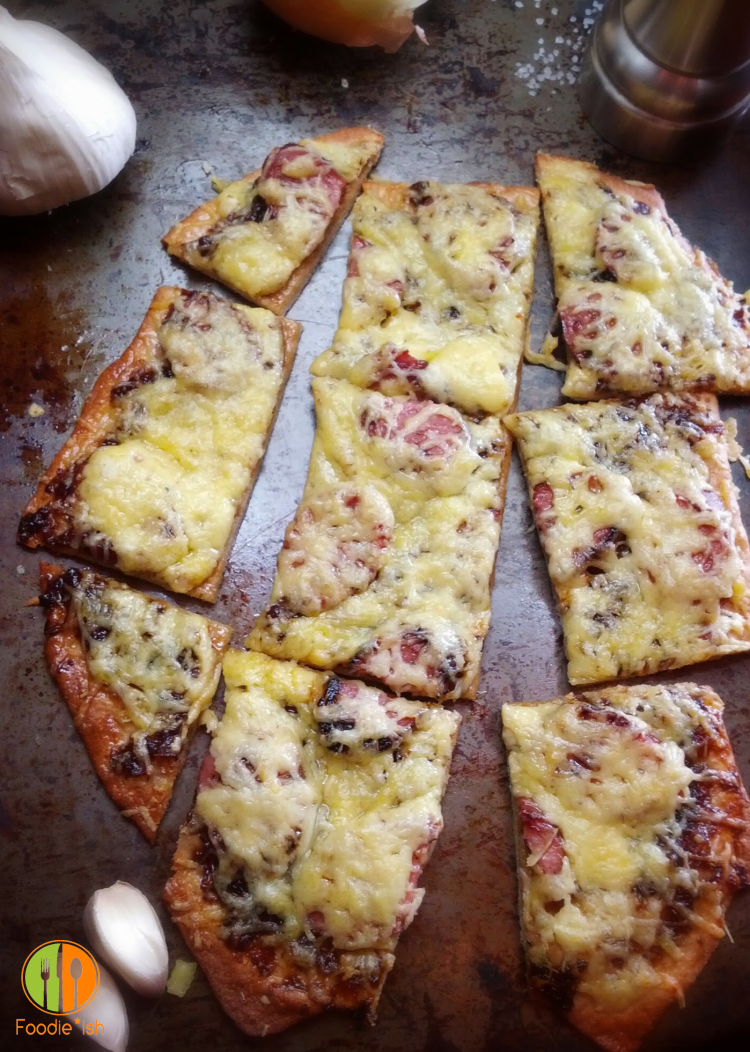 I'm not sure where I came up with the idea for this, especially since my husband gets a frowny face when I say I'm making a creative pizza (he's a down-home, meat and potatoes, pepperoni-please kind of guy). But I love using apricot preserves as a sugar substitute in marinades, and I guess I just thought it would pair well with the onion and the smokiness of the sausage, and man… I must say… So delish!!! Even he gave it the thumbs up. Say what?
Yep.
What.
That good.
I used non-smoked Gouda because the Mister bought it and I wasn't specific when I requested it, so he searched and searched, and then texted me that "all the Gouda is smoked", but of course I didn't get that message 'cause I was too busy screwing around on Facebook. Well, three different stores later in an angry because-I-never-texted-back search for the chupacabra that is non-smoked Gouda, he found it. Yay for him and his tenacity! But… well, of course I wanted smoked. I mean.. it's Gouda, right?
But in all honesty, I think it was perfect the way it was. You already get so much smokey flavor from the jam and the sausage that the non-smoked Gouda didn't get lost in a sea of smokiness. So, I'm just saying… regular ol' plain ass Gouda is cool for this recipe if you can find it. Which apparently is next to impossible, so…
Smoke 'em if ya got 'em.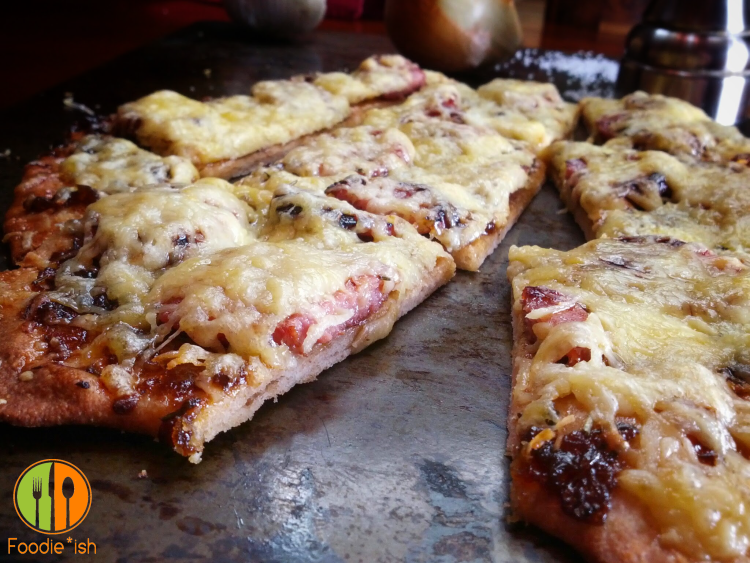 Smoked Sausage Thin Crust Pizza With Caramelized Onion-Apricot Jam and Gouda
Yield:
2 small pizzas (3-4 servings)
Savory and sweet, this is fancy-pants enough for snooty company, and craveable enough to make on a Friday night while binge-watching your favorite show.
Ingredients
Apricot Onion Jam
2 small sweet or yellow onions - sliced thinly
2 TBSP butter
1/4 cup balsamic vinegar
1 tsp fresh ginger - grated
4 cloves garlic - minced or pressed
1/4 tsp dried thyme
a pinch of crushed red pepper (to taste)
1/3 cup apricot preserves
Smoked Sausage Pizza
(2) Thin Crust for Pizza or your favorite store bought thin crust
7 oz turkey smoked sausage - thinly sliced into rounds
4 oz. non-smoked gouda cheese - shredded
dried thyme and rosemary to taste
salt and pepper to taste
Instructions
Prepare Crispy Thin Crust for pizza as directed
Melt butter in a medium saucepan over medium heat. Add onions and turn heat down to low-medium and saute until caramelized, about 20 minutes.
Once onions are caramelized and sweet, add garlic and ginger and saute until fragrant, about 2 minutes. Add all remaining ingredients for jam and saute until they have all combined and resemble a thick, gooey jam, about 2 minutes. Take off the heat.
In a non-stick skillet, add smoked sausage and cook over medium heat until browned and charred, about 5 minutes.
Preheat oven to 425 degrees. Top each pizza crust by spreading 1/2 the onion jam on either crust. Sprinkle each with thyme, rosemary, salt, and pepper to taste. Divide the charred smoked sausage slices evenly on both crusts and sprinkle 1/2 of the shredded Gouda (about 2 oz per pizza) on top. Bake for approximately 11 minutes, or until cheese is melted and crust is golden brown.
Recommended Products
This site contains affiliate links to products. If you click-through and purchase an item, you will not pay a penny more than you otherwise would, but we may receive a small commission to help us keep the food in Foodie*ish. Thanks for your support!
Nutrition Information:
Yield:

4
Serving Size:

1/2 pizza
Amount Per Serving:
Calories:

399
Total Fat:

21g
Saturated Fat:

12g
Trans Fat:

0g
Unsaturated Fat:

7g
Cholesterol:

78mg
Sodium:

977mg
Carbohydrates:

36g
Fiber:

2g
Sugar:

18g
Protein:

18g
This website provides approximate nutrition information for convenience and as a courtesy only. Nutrition information can vary significantly for a recipe based on factors such as precision of measurements, brands, ingredient freshness, or the source of nutrition data. We strive to keep the information as accurate as possible, but make no warranties regarding its accuracy. We encourage readers to make their own calculations based on the actual ingredients used in your recipe, using your preferred nutrition calculator.