Smoked Sausage Thin Crust Pizza
The one where I send my husband out for smoked Gouda and  six hours later he brings home a Chupacabra, I eat an entire pizza and deny it like a big ol' liar,  and I create a tasty jam out of apricots and onions and I slap it on a crust and hope for the best. And it was. The best, that is.
I'm pretty sure this is my new go-to appetizer for any get-together I ever have. Ever. Carmelized onions with apricot preserves, spread all over a perfect thin crust and topped with seared smoked sausage and Gouda cheese… Um… yes. Gimme, gimme, gimme!!! It is super rich and decadent, but also a perfect bite… savory, smokey, sweet. OMG. It truly is one of the best pizza appetizers I have ever had.
Now, I say appetizer, because a little goes a long way. It is RICH. Like not so rich you can't eat a whole small pizza yourself (I wouldn't know… I never did that. Nope. Not me, uh uh) but rich enough to share (if you're into that, which I am not, so…). And I would honestly never make this on a traditional hand-tossed crust. That would be just too damn much. So, I strongly advise you to stick to the thin crust, and if you're looking for a perfect crispy thin crust recipe, wouldn't ya know… I have one!  (The colorful words will take you there, just in case this is your first time on the internet, And if so, welcome! And also, wow.)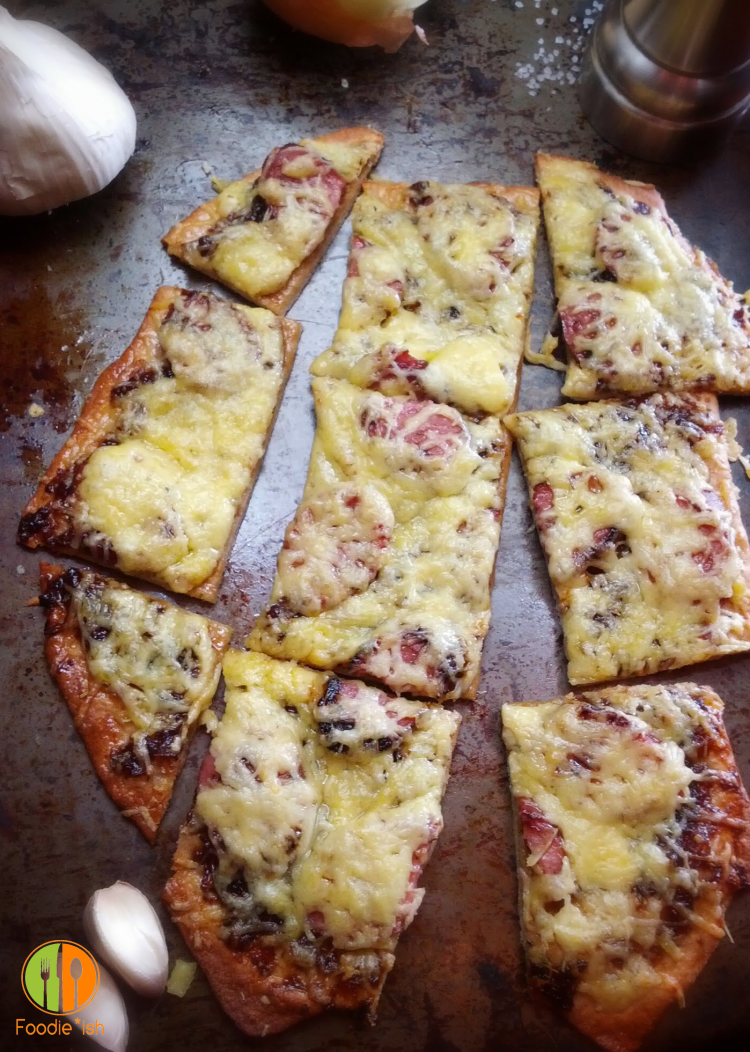 I'm not sure where I came up with the idea for this, especially since my husband gets a frowny face when I say I'm making a creative pizza (he's a down-home, meat and potatoes, pepperoni-please kind of guy). But I love using apricot preserves as a sugar substitute in marinades, and I guess I just thought it would pair well with the onion and the smokiness of the sausage, and man… I must say… So delish!!! Even he gave it the thumbs up. Say what?
Yep.
What.
That good.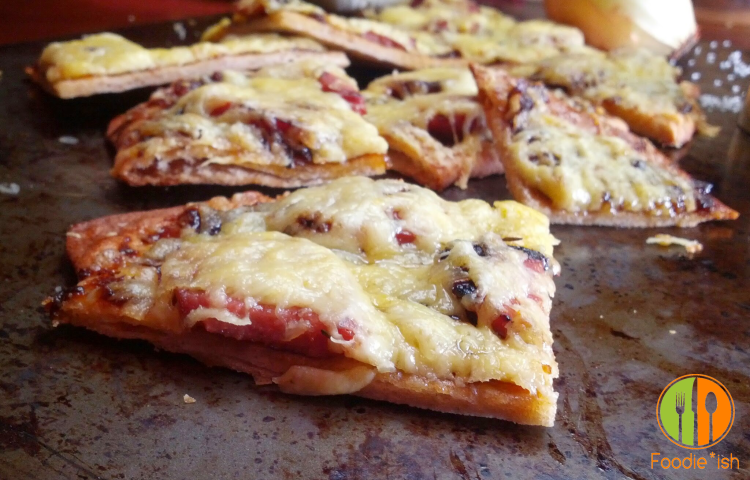 I used non-smoked Gouda because the Mister bought it and I wasn't specific when I requested it, so he searched and searched, and then texted me that "all the Gouda is smoked", but of course I didn't get that message 'cause I was too busy screwing around on Facebook. Well, three different stores later in an angry because-I-never-texted-back search for the chupacabra that is non-smoked Gouda, he found it. Yay for him and his tenacity! But… well, of course I wanted smoked. I mean.. it's Gouda, right?
But in all honesty, I think it was perfect the way it was. You already get so much smokey flavor from the jam and the sausage that the non-smoked Gouda didn't get lost in a sea of smokiness. So, I'm just saying… regular ol' plain ass Gouda is cool for this recipe if you can find it. Which apparently is next to impossible, so…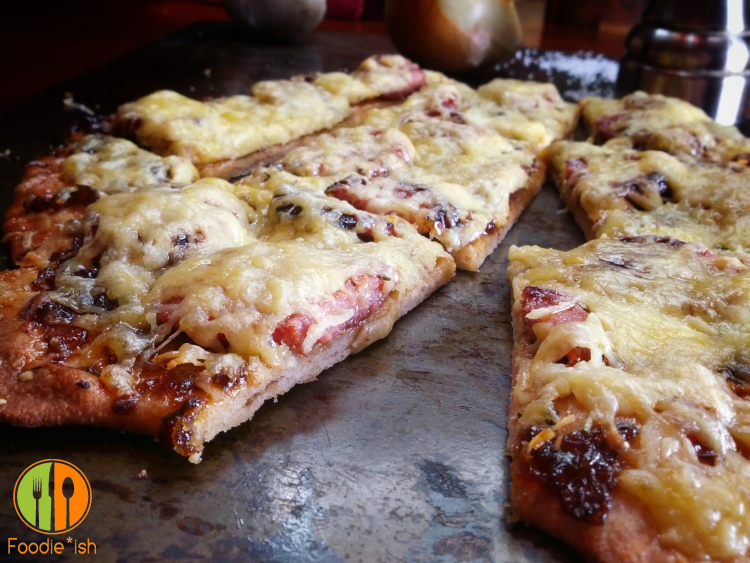 Smoke 'em if ya got 'em.
[recipe title="Smoked Sausage Thin Crust Pizza With Gouda" servings="2 small pizzas" time="50min" difficulty="easy"]
Ingredients
onions, sliced thinly 2 small
butter 2 tbsp
balsamic vinegar 1/4 cup
fresh ginger, grated 1 tsp
garlic, minced or pressed 4 cloves
dried thyme 1/4 tsp
crushed red pepper a pinch
apricot preserves 1/3 cup
salt and pepper to taste
Thin Crust for PIzza 2
non-smoked gouda cheese, shredded 4 oz
turkey smoked sausage, thinly sliced 7 oz
dried thyme and rosemary to taste
Directions
Prepare Crispy Thin Crust for pizza as directed
Melt butter in a medium saucepan over medium heat. Add onions and turn heat down to low-medium and saute until caramelized, about 20 minutes.
Once onions are caramelized and sweet, add garlic and ginger and saute until fragrant, about 2 minutes. Add all remaining ingredients for jam and saute until they have all combined and resemble a thick, gooey jam, about 2 minutes. Take off the heat.
In a non-stick skillet, add smoked sausage and cook over medium heat until browned and charred, about 5 minutes.
Preheat oven to 425 degrees. Prepare cooked pizza crust by spreading 1/3 onion jam on. sprinkle with thyme, rosemary, salt, and pepper to taste. Place 1/2 smoked sausage slices on pizza and sprinkle 1/2 of your shredded Gouda on top. Bake for approximately 11 minutes, or until cheese is melted and crust is golden brown.
This is an original recipe by Glory Thorpe of Foodie*ish and was originally published on Foodieish.com. All content and photos ©2015 Foodie*ish.  All Rights Reserved. 
[/recipe]
---
[wysija_form id="4″]