Healthy*ish Oven-Fried Mac and Cheese Balls
This is the one where I take something no one wanted to eat and oven-fried it and then everyone ate it. And look… they are so damn cute too! 
So in a minute, I'm gonna tell you all about how I made these scrum-diddily-umptous oven-fried mac and cheese balls. But first, let me talk about some nonsense that will only vaguely tie into the reason I made this recipe.
Last night I was goofing off on Facebook a little bit, and my sista from the South, Shawna Rae (one of my favorite ex-blogging buddies) sent me a photo of a cake her husband made…
Her husband made this y'all. He's not a pastry chef; he's a pilot. But you'd never know it, given this thing is 12 layers of perfection with homemade frosting and everything. I drooled.
I am drooling right now. That's gross, stop that.
And although I wanted to send her a retaliatory pic of my dancing mac and cheese balls (because, let's be honest, that cake was good. A stationary cheese ball would not do)…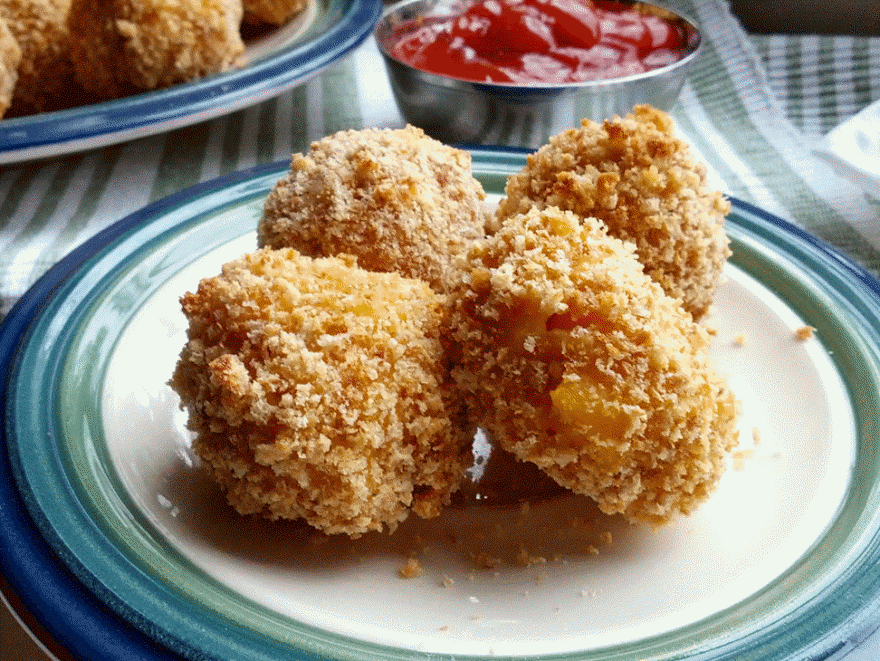 Instead, I thought I would share a photo of the last thing my husband baked…
Yep.
That's a big plate of nothing.
So, yeah. Not that I am envious… I kind of like being the master of my kitchen. I am very competitive and I'm not sure how well two cooks in it would work out. Luckily, my husband is old-school. He stays out of the kitchen… because he is not stupid. If someone would happily make you delicious food sprinkled with love and joy everyday, and all you had to do was stay out of her damn way while she did it, you'd sit your butt on that sofa and watch baseball too. And don't go thinking I live with some Neanderthal who believes a woman's place is in the kitchen; on the contrary. My husband would happily trade places with me if I could only find a way to make money combining my unique talents for impersonation, my spectacular, not at all wonky, salsa dancing skills, and my uncanny ability to identify people by their teeth alone. Seriously. It's weird. I could meet someone once, not see them for ten years and still be able to identify them based on their teeth.
So anyway, he has had more success marketing his skills, so I get to be queen of the kitchen. Yay!
But because he couldn't tell you the difference between a whisk and a wok, he is at my mercy when it comes to eats. And I kinda dig that power. Especially when we argue. Oh, you wanna argue with me? lasagna for you! (he hates pasta… I know, right! It's totally crazy, inhuman, and disturbing). And sometimes I make stuff he doesn't think he is a fan of in the hopes of changing his mind. Like these Healthy*ish Oven-Fried Mac and Cheese Balls. (See, I tied it in).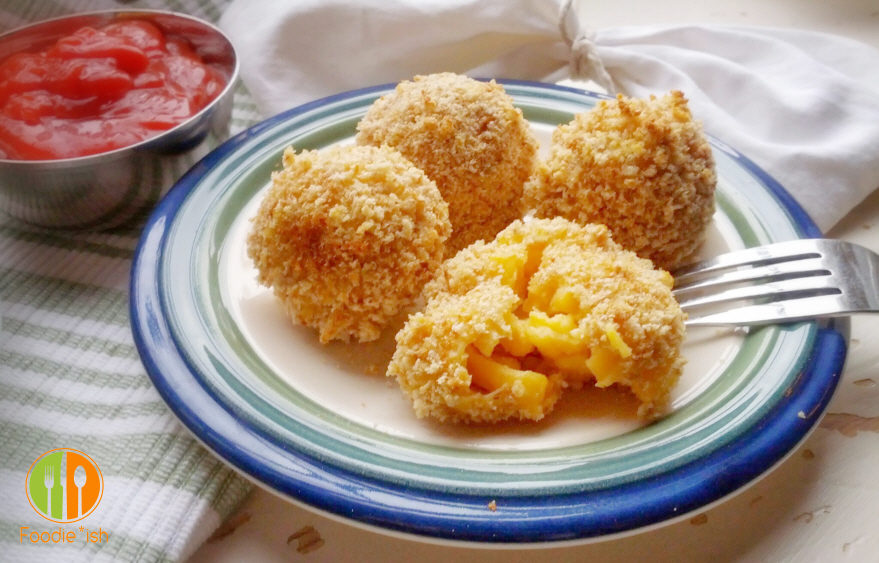 These came about because I bought an industrial-sized box of Mac and Cheese product the other day and I was shocked, I tell you, when the kids were less than thrilled. So I had about a pound of leftover mac just staring at me in the fridge. I hate wasting food. There has to be a way to turn this into something palatable.
When in doubt, you fry it, right?
The first time I had fried mac and cheese balls was in a bowling alley in Louisville over a decade ago. That was the most memorable part of my whole trip. Well, that and the fact that this bowling alley also had a pseudo-trendy lounge attached to it. One of those lounges with the beds that are sort of sprinkled around the room in a sultry, trying to be sexy, but reeeaallly just creepy kind of way. I think that was a popular schtick in the bar industry for a minute. Blessed be the death of bizarre fads. Anyway… the mac and cheese balls made the scene bearable. They were, gooey and cheesy and crispy and honestly, the best food invention I had ever been privy to. So I started making them as after-bar food for my friends.
Fast forward a handful of years, and I no-longer have friends who stay up past Downton Abbey o'clock. So, I haven't even thought about fried mac and cheese balls in ages. Until this congealed cheese-product mass was staring me in the face. Don't mock me, Mac. I'll fry your ass. Sort of.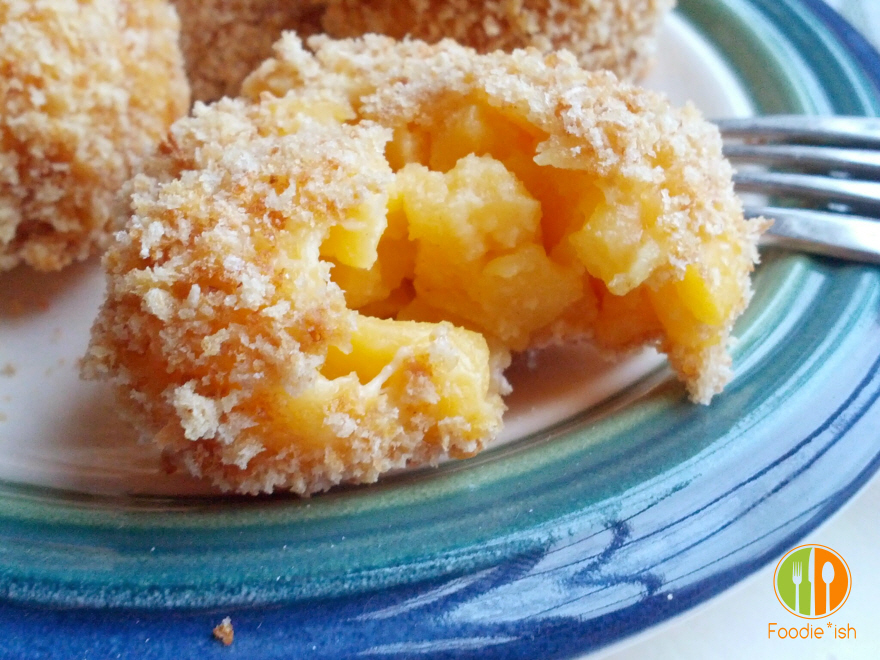 I really do try to make healthy food choices. Or at least I try for balance. So the only time I fry anything is when I make extra crunchy fried chicken fingers. You can't mess with perfection, and they need a quart of oil to reach perfection. Fine. They get a pass. But everything else gets baked. So I thought I would oven-fry these, similar to my crispy baked chicken fingers with homemade panko. I make my own panko, which I much prefer to the store-bought kind. You can find out how super simple it is by clicking the link above. But store-bought would work just as well.
Let me tell you, given what I had to work with (a vat of boxed mac and cheese) I did not have high expectations, so I was pleasantly surprised when these oven-fried mac and cheese balls turned out to be super delicious. Like, I will make these again for sure during football season, possibly even for the Super Bowl yummy. Anything that makes it onto your Super Bowl table has got to be pretty darn worthy, and these really packed the perfect combo of cheesy, melty, crunchy goodness. Plus, perfectly acceptable to eat with your hands! Yay! No forks to stab your brother with (don't even get me started…).
These are delicious with plain ol' ketchup, and oh my goodness, Ranch dressing. And next time, I am totally going to make a spicy southwest-style horseradish sauce. Like the stuff you dip your blooming onion in? Yes. That. So we will be revisiting these in the not too far-off future so I can whip up a batch of that creamy goodness to go with them. But for now… let's make some oven-fried mac and cheese balls, shall we?
[recipe title="Healthy*ish Oven-Fried Mac and Cheese Balls" servings=30 balls time="45min" difficulty="easy"]
Ingredients
box of Macaroni and Cheese family-sized box, prepared as directed and refrigerated over night
shredded cheddar-jack cheese 1 1/2 cups
all-purpose flour 1 cup
large eggs 2
water 2 tbsp
panko breadcrumbs 3-4 cups

non-stick cooking spray
Directions
Prepare your mac and cheese according to directions on the box. Refrigerate overnight so it gets kind of congealed.
Once your mac has solidified a bit in the fridge, take it out and mix in your shredded Cheddar Jack cheese. Begin rolling into ping-pong ball sized balls. You want them to be fairly packed together, so you don't have to be delicate. Place balls on a cookie sheet that will fit in your freezer and freeze for about 2 1/2 hours.
Once your balls are frozen, create your dredging station. Beat the eggs with the water in a small bowl. Put the flour on a plate and season with salt and pepper. Place your panko on another plate.  Preheat your oven to 425 degrees, and lightly coat a cookie sheet with non-stick cooking spray.
Dip a ball in the egg wash, followed by flour. Dip again in egg wash and roll around in the panko until coated. Place on your greased cookie sheet and repeat until all balls are coated with panko. Spray the balls with a light coating of non-stick cooking spray and pop in the oven for about 15 minutes or until golden and crispy.
This is an original recipe by Glory Thorpe of Foodie*ish and was originally published on Foodieish.com. All content and photos ©2015 Foodie*ish.  All Rights Reserved. 
[/recipe]
---
[wysija_form id="4″]