If there is one thing I've learned about people over the course of my life, it's that just about everyone loves crispy chicken fingers. And what is not to love? Crunchy coating, moist and delish*ish chicken, dipping sauces to take you on a flavor quest… um, yes please! But they can tend to be a bit on the… um… less than figure-friendly side. Until now. 
Chicken finger night at my house is a weekly tradition. It started years ago on the inaugural Game of Thrones night. That night, I happened to make crispy panko chicken fingers, and we all sat at our coffee table with 6 different sauces and panko crumbs everywhere watching as our minds got blown by a show we never thought we'd like. Well, we love GOT and we love chicken fingers. So the two have become a bit of a hand-in-hand institution in the Foodie*ish house.
And I tell ya, even though we don't have our weekly picnics in front of the tv (or at least not until April when GOT comes back), we still have panko chicken once a week. Because I make it so regularly, I have had some opportunity to experiment with technique, and breadings, and different coatings, and this crispy baked chicken finger recipe is hands-down my favorite.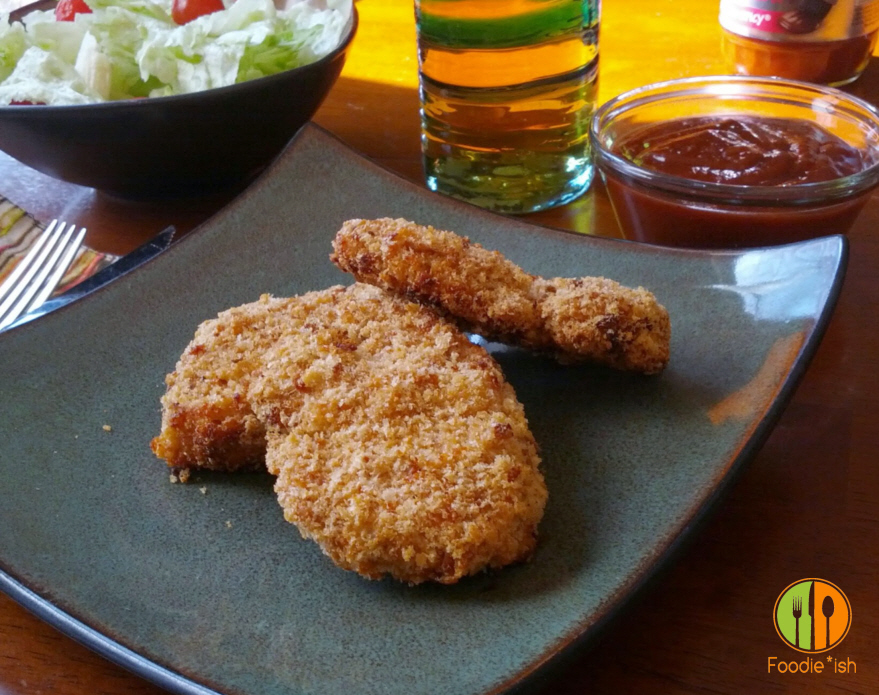 One of the reasons I love this so much is because I make my own reduced calorie panko breadcrumbs. I use Aunt Millie's 35 Calorie Whole Grain bread for my panko, and it has about 40 calories and 3.5 grams of fiber per 1/2 cup. Your typical store-bought panko has 110 calories and less than 1 gram of fiber per 1/2 cup. So, you're packing a nutritional punch. PLUS… it's cheaper. I usually find a loaf for under $2.00, and a whole loaf will make you almost 11 cups of panko. The typical box of panko only has 4 cups at around $2.00… so super budget friendly too.  And as far as I'm concerned, fewer calories means I can be a bit gluttonous with the dipping sauces (BBQ, Duck Sauce, and Mayo for me). Yay condiments!!  😉
And because it is whole grain, it gives your chicken fingers a gorgeous, golden brown, trick-yourself-into-thinking-it-was-fried color, which is an added bonus because they are actually baked! It's about as healthy a crispy chicken finger as you're gonna find.
Oh, and I should note, I make a TON of these at a time. They make an easy (and healthy) alternative to frozen chicken nuggets, so leftovers are not a problem, and I would shudder to think what would happen if I accidentally didn't make enough for GOT night. So I make roughly 4 pounds of boneless, skinless chicken breasts at a time (that's about 4-5 large chicken breasts). If you are not feeding an army, reduce the amount of chicken you use.
Crispy Baked Chicken Fingers with Whole-Grain Panko
Delicious and satisfying crispy baked chicken fingers with homemade whole-grain panko breadcrumbs
Ingredients
16 slices 35-calorie Whole Grain Bread
4 pounds boneless, skinless chicken breasts
2 cups all-purpose flour
2 large eggs
salt and pepper (to taste)
non-stick cooking spray
Instructions
THE PANKO:
Preheat the oven to 300 degrees.
Using the shredder blade on your food processor, tear up 16 slices of 35 Calorie bread and run them through the shredder 2-3 slices at a time. 16 slices makes about 7 cups of crumbs.
Spread the crumbs on two baking sheets in an even layer and place in the oven. Bake for about 15 minutes mixing/turning frequently, or until crumbs are dry and crispy. The goal is to dry them out evenly, so you want to make sure you mix/turn them every 5 minutes or they will over-bake.
Let cool completely on baking sheets. You can use the panko crumbs immediately when cool, or store them in an air-tight container for up to 3 weeks.
THE CHICKEN FINGERS:
Preheat oven to 350 degrees.
Trim boneless, skinless chicken breasts and slice on a diagonal into strips, usually about 5-6 strips per breast. Season with salt and pepper.
Prepare your dredging station: one plate or dish with 2 cups of flour, one plate or dish with 3 cups of panko (add more as necessary), and bowl with two eggs whisked with two TBSP water. Prepare two baking sheets with non-stick cooking spray.
Dip a chicken strip in the flour, covering evenly with a light coating. Dip in egg and coat evenly, dip in panko and coat evenly. Shake off any excess panko and place on the baking sheet. Repeat until all fingers are prepared.
Spray the tops of the chicken fingers with a light coating of non-stick cooking spray, and bake for 35 minutes, or until chicken fingers are crispy and chicken is fully cooked.
Let cool 5 minutes before serving.
Notes
I like to use a low calorie whole grain bread because it reduces the calorie content and typically has fewer carbs that standard whole grain, but can use any bread you like. Whole grain will give a nuttier, deeper flavor and provides a more golden crispy crust on the chicken compared to a standard white panko.
Recommended Products
This site contains affiliate links to products. If you click-through and purchase an item, you will not pay a penny more than you otherwise would, but we may receive a small commission to help us keep the food in Foodie*ish. Thanks for your support!
Nutrition Information:
Yield:

6
Serving Size:

4 fingers
Amount Per Serving:
Calories:

768
Total Fat:

14g
Saturated Fat:

4g
Trans Fat:

0g
Unsaturated Fat:

8g
Cholesterol:

319mg
Sodium:

466mg
Carbohydrates:

48g
Fiber:

3g
Sugar:

2g
Protein:

105g
This website provides approximate nutrition information for convenience and as a courtesy only. Nutrition information can vary for a recipe based on factors such as precision of measurements, brands, ingredient freshness, or the source of nutrition data. We strive to keep the information as accurate as possible, but make no warranties regarding its accuracy. We encourage readers to make their own calculations based on the actual ingredients used in your recipe, using your preferred nutrition calculator.