I have FINALLY done it! I mastered the most basic homestyle wheat bread in the world! WHOOT WHOOT!! Okay, I know that sounds a bit cray but listen here: I bake bread all the time. Complex breads, finicky breads, breads with bizarre fruits and nuts. Filled breads, braided breads, breads with funny names. In other words, breads that should be much more challenging to me than a simple, sandwich bread. Yet until today, every. single. time. I have attempted to make a basic sandwich bread in a loaf pan, it has failed me. I get bricks. BRICKS!  And it would make me so mad…
And I knew before I even put my loaves in the oven that they were gonna be better as building materials than eats. I knew they were going to be lumps of cement because they would rise, and rise, and rise…
And then little bubbles would form on the top, and I'd be like, "awe… look! It's getting all proofy and stuff. I am the best bread maker in the WORLD!"
And then my dough would sink like someone let all the air out of a balloon.
Incidentally, those cute little "I kick ass at baking" bubbles (I know, those bubbles up there are huge bubbles, which is sometimes okay, like in high-moisture yeast breads, like my No-Fail Ciabatta… but not for simple homestyle wheat bread), may be an indication that your yeast have "overfed". Meaning these dough bubbles are the last wisps of flatulence your yeast can muster, and when they show up, it is like a bread-baking death knell. Your yeast ate itself to death. Well, not to death, but they've pretty much used up all their oxygen and food and have tooted so much and filled your dough with so much gas, that the gluten structure in your bread can't support itself and pffffffttttt… brick.
So my yeast would essentially fart my bread into the trash.
Thanks Daryl.
But today I FINALLY paid attention. See, my problem comes from being a child of the '80's, when over-indulgence was king and everyone had a "if two is good, twelve is better" mentality. This is such a basic recipe, and all you have to do is let it proof until double. DOUBLE. Ya hear that? Double. Not triple. Not until it smooshes the top of the plastic wrap. Not until it is crawling out of the bowl onto the counter-top like your own personal Blob. I figured, hell, if double will give me good bread, quadruple will definitely give me bread that will essentially bring Jimi Hendrix back from the dead. Super wicked awesome bread with a whammy bar and an Afro!
Yeah… no. Nope. That's not the way this bread recipe works, because, like I said before, there is a nexus point where more actually leads to diminishing returns.
In the form of a wheaty rock.
But now LOOK! If you simply follow the instructions and stop the rise when it doubles… Delicious, chewy, crusty, homestyle wheat bread!
This is a light wheat bread, so it is still light and chewy, but has just enough wheat for color and a hearty, slightly nutty flavor. I have made wheat breads that utilize a much higher wheat to white flour ratio, and I am not much of a fan. They seem to turn out quite a bit denser than I like. But that could also be because my yeast waved a white flag and I missed it. In the future, I may substitute one cup of white flour for a cup of wheat, but I think that is as far as I would take it. I have read a 1:3 is sort of the maximum ideal when it comes to wheat-to-white flour ratio. And I like a lighter wheat bread anyway.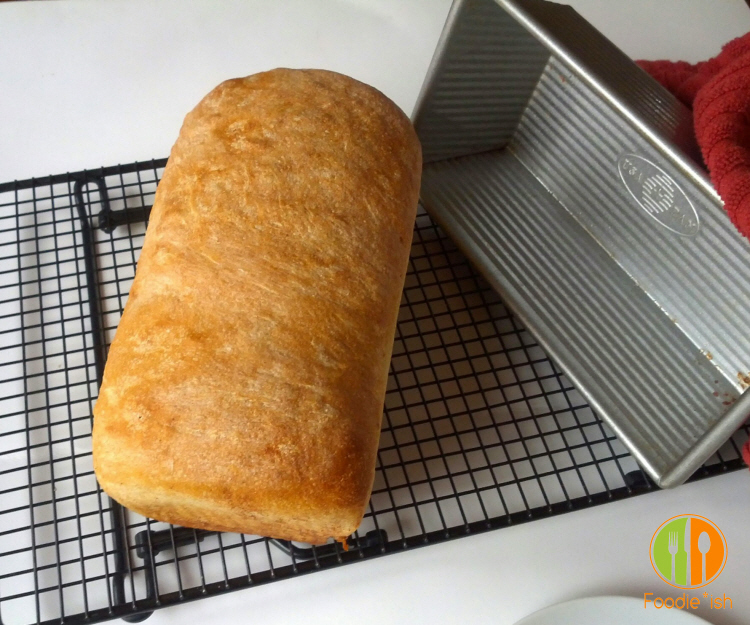 And the kids love it too. Which made this photo shoot interesting. And short lived.
So… the take away: as long as you follow the directions like you are an actual rule-follower, you will get great results. Every. Time. Pinkie Swearsies.
If I can do it, you most definitely can do it too!
Simple Homestyle Wheat Bread
Additional Time:
1 hour
30 minutes
Total Time:
2 hours
25 minutes
Delicious, easy, every-day wheat bread.
Ingredients
1 TBSP rapid-rise yeast
1 TBSP sugar
1 TBSP salt
3 1/3 cups warm water (110 degrees or so)
5 1/2 cups all-purpose unbleached flour
1 1/2 cups stone-ground whole wheat flour
oil for greasing bowl and pans
Instructions
If using rapid-rise yeast, combine yeast, sugar, salt, and 3 cups all-purpose flour in the bowl of a standing mixer and mix with the paddle attachment at a low speed until combined. *If using active-dry yeast, combine yeast, sugar, and 1 cup of the water and let proof until frothy. Then combine with remaining water and 3 cups of all-purpose flour in the bowl of a standing mixer and proceed to mix until combined.
Add 1 cup of wheat flour and 1 cup of white flour and mix until the dough starts to come together. Switch to the dough hook and add your remaining 1/2 cup of wheat flour and 1/2 cup of all-purpose flour. Need at a medium low speed, and add your last cup of all-purpose flour 1/4 cup at a time until your dough has fully come together and has pulled away from the sides. Once you have a dough ball, continue kneading at a low (2-3) setting for 15 minutes.
Place your dough in a well oiled bowl large enough for your ball to double in size. coat the top of the ball with oil, and cover the bowl with plastic wrap. Let the dough rise for about 1 hour, or until doubled. Do NOT over-proof!
Once your dough has doubled, cut in half and shape into two loaves and place in two loaf pans that have been oiled. I prefer to slather butter on my pans, but vegetable oil works just as well. Cover loosely with plastic wrap and let proof again for roughly 30 minutes. *See note below.
Once your loaves have proofed in their pans, and are about 1-1/2 inches above the rim, place them in the oven and bake at 425 for 10 minutes. Turn down the heat to 350 and bake for an additional 30 minutes or until golden and hollow-sounding when you knock on the top.
Remove from pans and let cool on a rack 15 minutes before slicing.
Notes
The dough will fill up about 2/3 of the pan when you transfer your dough. So you're looking for it to rise a total of about 2 – 21/2 inches on the second rise.
Recommended Products
This site contains affiliate links to products. If you click-through and purchase an item, you will not pay a penny more than you otherwise would, but we may receive a small commission to help us keep the food in Foodie*ish. Thanks for your support!
Nutrition Information:
Yield:

22
Serving Size:

1 slice
Amount Per Serving:
Calories:

232
Total Fat:

21g
Saturated Fat:

1g
Trans Fat:

0g
Unsaturated Fat:

18g
Cholesterol:

0mg
Sodium:

319mg
Carbohydrates:

11g
Fiber:

1g
Sugar:

1g
Protein:

2g
This website provides approximate nutrition information for convenience and as a courtesy only. Nutrition information can vary significantly for a recipe based on factors such as precision of measurements, brands, ingredient freshness, or the source of nutrition data. We strive to keep the information as accurate as possible, but make no warranties regarding its accuracy. We encourage readers to make their own calculations based on the actual ingredients used in your recipe, using your preferred nutrition calculator.