Tomorrow is MLB Opening Day, y'all! What's that, you say? You don't celebrate opening day in your house? Well, it is an unofficial holiday around these parts, and by these parts I mean my house. And pretty much only at my house considering the nearest MLB team is four hours away. But we root for the LA Dodgers in this house (which is approximately 32 hours away, so, obvi), and once you have blue running through your veins, you never become a fair-weather fan. Which is good, considering the weather in Indiana compared to SoCal is not fair at all. But, anyway… Yay baseball! I have like 8 months of non-stop baseball on TV with absolutely no option for getting my crappy fake-reality Bravo TV fix, non-stop fantasy league banter, non-stop trade rumors, and chauffeuring the kid to practice, and games… yay. baseball. ;/
In any event, opening day usually means it will rain here. My husband tries to take off work so we can grill and have a couple beers and maybe sit on the patio for a spell… you know, kick spring off with the start of baseball. But the weather almost never cooperates. And wouldn't you know, there is a 30% chance of rain tomorrow (par for the course). That's no big issue because I have learned to roll with the opening day punches. I plan to make beer brats with sauteed peppers and onions, but if the weather stinks, we'll do oven-BBQ chicken. Yum. In either case, we will have this super delish*ish creamy potato salad with capers.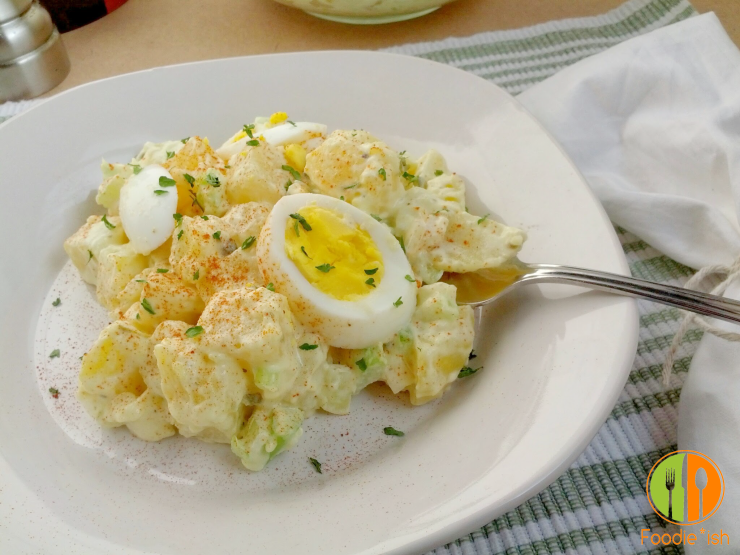 I love potato salad, but I find that it is a difficult thing to get right. They are often really sweet (by my taste) and I am not a fan of that. Not at all. I like a tangy potato salad. One that is well dressed, but not sloppy. I like a hint of mustard, but not too mustardy. I usually add dill pickle relish or tiny bits of chopped dill pickle because I like the salty-sour pop. That's how I like all my creamy salads really… egg salad, chicken salad, pasta salad. I want some creaminess, some tang and some salty pops. I often put capers in my egg salad as I think it balances well with the mayo and mustard, adding a zing in something that can be overly rich. So I thought why not do that with a potato salad? So I did. And it was pretty fantastic.
This potato salad is creamy and rich, with a noticeable but not overpowering tang from the capers and mustard. A hint of grapefruit juice adds an almost unidentifiable brightness… like you can taste the brightness, but not grapefruit or even citrus for that matter. I also always add celery and onion to my potato salad. It just sort of belongs, and adds a depth of flavor that is a little unexpected. But if you hate that flavor, of course you can make it your own. Substitute the celery with yellow pepper and add a hint of chopped green onion for a milder flavor.
So here is to looming Spring and BBQ season and endless baaaaseball, and short-sleeves and sandals! To open windows and hiking and fresh veggies! And here is to potato salads and cold beers, and laughter on the patio! I am soooo ready for spring!!!
Creamy Opening Day Potato Salad
Total Time:
2 hours
25 minutes
An All-American side dish that screams baseball and bbq. As it should.
Ingredients
9 cups golden-flesh potatoes - cut into bite-sized pieces
3 celery stalks - diced
1 cup onion - finely diced
1 cup mayonnaise
1 TBSP prepared mustard
1/2 tsp celery salt
2 TBSP capers - chopped
1 TBSP fresh-squeezed grapefruit juice (or lemon)
1 TBSP sugar
3 large hard-boiled eggs - sliced
salt and pepper to taste
paprika and parsley for garnish
Instructions
Peel and chop potatoes into bite-sized pieces. Place in a large pot and cover with water. Bring to a boil and cook for 8-10 minutes, or until potatoes are just tender but still crisp. Drain and place back in empty pot and cover with cold water to stop the cooking process.
Chop celery and onions and set aside. Combine mayo, mustard, celery salt, chopped capers, grapefruit juice, sugar, and milk in a bowl large enough to accommodate your potatoes. add celery and onion and stir to combine. Taste and adjust seasoning as necessary. It may appear over-salted, but that will dissipate once the salad has chilled.
Drain the potatoes once again, and add to the dressing mixture and carefully combine, taking care not to mash the potatoes. Once combined, layer hard-boiled egg slices on top, cover and refrigerate for 2 hours before serving. Add paprika and parsley as garnish immediately before serving.
Recommended Products
This site contains affiliate links to products. If you click-through and purchase an item, you will not pay a penny more than you otherwise would, but we may receive a small commission to help us keep the food in Foodie*ish. Thanks for your support!
Nutrition Information:
Yield:

8
Serving Size:

1
Amount Per Serving:
Calories:

414
Total Fat:

23g
Saturated Fat:

4g
Trans Fat:

0g
Unsaturated Fat:

18g
Cholesterol:

81mg
Sodium:

416mg
Carbohydrates:

45g
Fiber:

5g
Sugar:

6g
Protein:

8g
This website provides approximate nutrition information for convenience and as a courtesy only. Nutrition information can vary significantly for a recipe based on factors such as precision of measurements, brands, ingredient freshness, or the source of nutrition data. We strive to keep the information as accurate as possible, but make no warranties regarding its accuracy. We encourage readers to make their own calculations based on the actual ingredients used in your recipe, using your preferred nutrition calculator.