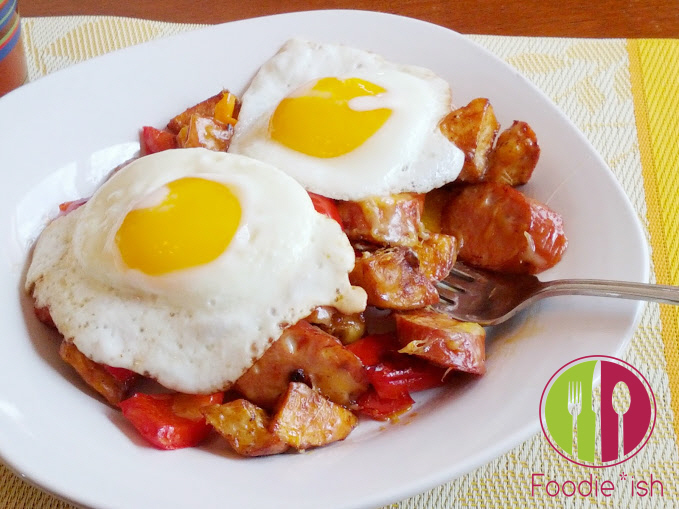 My husband's favorite day is Sunday because that is the one day of the week I make a big ol' breakfast.  Eggs, potatoes, sometimes muffins, and more often than not, a mimosa or a Bloody Mary (or 3). We laze around and the cooking is slow and enjoyable, because the only thing I have to do on Sunday's other than cook is laundry, and I would rather spend the entire day in the kitchen up to my elbows in gizzards than pairing up socks. This Sunday I made his favorite; something we fondly call "Garbage Eggs" which I have dressed up as Spazzatura eggs so as not to immediately gross you out. But Spazzatura does in fact mean garbage, so…
They are called "garbage" eggs because you create a hash using pretty much whatever you've got on hand, and top it with eggs. My Spazzatura breakfast comes in two forms: a low carb version and a super hearty, very-much-not-low-carb version. The former typically consists of sauteed peppers and onions, turkey smoked sausage, CHEESE!! and eggs (I liked scrambled, he likes over medium).  The latter is all the above with the heavenly addition of crispy roasted red potatoes. Why two versions? Put simply, we used to pretend we follow a low-carb diet, but in reality, my husband hates most low-carb food. See, he thought low-carb meant steak and bacon and cheese exclusively. For every meal. Meat and cheese and more meat. What he got was cauliflower mac (which is DELICIOUS, btw) and stuffed eggplant (also delicious, but definitely not steak and bacon). And after about a month of flax bread and cauliflower rice, he had enough. So, two versions.
Today I went for total glory and carbed it up, and am so happy I did. Crispy roasted potatoes with a hint of garlic and paprika… I could eat that alone.  But coupled with sauteed red and orange peppers, a little red onion, loads of melty cheddar jack, AND chipotle chicken sausage… Oh my lanta! Gimme a fork!  No seriously.  Like, right now.
Because this is Foodie*ish, substitute what you've got on hand. Although my go-to protein for "Garbage Eggs" is turkey smoked sausage, today I subbed in a package of Chipotle & Jack Chicken Sausage. I wanted to give it a try, and thought this was the perfect opportunity. It did not disappoint. However, be forewarned… it was on the spicy side. I like a little kick, and I usually douse my Spazzatura in hot sauce, but the kick from this sausage was pretty adequate on it's own. Not like, 'holy buckets I need some milk and maybe I will need to ice my tongue' kind of kick, but you definitely notice the heat. If that's not your thing, stick to smoked sausage or even cubed ham steak. It's foodie*ish… so put your own spin on it.  
Spazzatura
A super hearty, stick to your bones breakfast with potatoes, peppers, sausage, cheese and eggs! If you want a meal that will tide you over all day, (or protect you from the woozy effects of a couple Bloody Mary's) this is it!
Ingredients
12 ounces chipotle chicken sausage (or turkey smoked sausage)
1 pound red potatoes, diced into bite sized pieces
1 red bell pepper, diced into bite sized pieces
1 yellow bell pepper, diced into bite sized pieces
4 oz sharp cheddar cheese, shredded
4 large eggs
1/2 tsp garlic powder
1/2 tsp paprika
2 TBSP olive oil (divided)
butter (to cook eggs)
salt & pepper
Instructions
Preheat oven to 375 degrees. Dice potatoes and toss with garlic powder, paprika, salt and pepper and 1 TBSP olive oil. Spread in a single layer on a baking sheet and roast for 30 minutes (or until golden brown and crispy) - flipping half-way through.
Dice peppers and saute over medium heat in a large non-stick skillet with remaining TBSP of olive oil until tender and slightly browned (about 15 minutes). Put in a bowl so you can use the pan to brown the smoked sausage.
Cut sausage into 1/4" rounds. Saute in non-stick skillet over medium heat until caramelized. Add peppers and roasted potatoes and saute until warm. Turn burner to low to keep hash warm while cooking the eggs.
Melt butter in a non-stick skillet. Add eggs and cook to preference.
Once eggs are done, turn heat up on hash to medium, add shredded cheese and stir to combine. When melted, it if ready to eat.
Plate the hash and top with eggs, and enjoy!
Recommended Products
This site contains affiliate links to products. If you click-through and purchase an item, you will not pay a penny more than you otherwise would, but we may receive a small commission to help us keep the food in Foodie*ish. Thanks for your support!
Nutrition Information:
Yield:

4
Serving Size:

1
Amount Per Serving:
Calories:

510
Total Fat:

32g
Saturated Fat:

13g
Trans Fat:

0g
Unsaturated Fat:

15g
Cholesterol:

266mg
Sodium:

1134mg
Carbohydrates:

28g
Fiber:

2g
Sugar:

5g
Protein:

29g
This website provides approximate nutrition information for convenience and as a courtesy only. Nutrition information can vary significantly for a recipe based on factors such as precision of measurements, brands, ingredient freshness, or the source of nutrition data. We strive to keep the information as accurate as possible, but make no warranties regarding its accuracy. We encourage readers to make their own calculations based on the actual ingredients used in your recipe, using your preferred nutrition calculator.