I can't even believe I am sharing this recipe for free. I may pull it. It's just too good. In fact, my son as decided he wants to start a food truck business to sell these and only these. Our truck shall be called The Cluck Truck. And we shall franchise. And it will be the start of my fried chicken empire. Oh my heavenly fried chicken! Who doesn't love fried chicken? I probably make fried chicken fingers more often than I should admit, but it is THE most requested dinner in the Foodie*ish house. And to be honest, I was never really a fan of fried chicken in general until recently. I know, right? I was one of those people. But I realize it was because I had never had really, really, super-duper-awesome fried chicken before. And I am fairly humble when it comes to recipes that I create (I think… maybe… a little humble… usually…) but this I can safely say is THE BEST FRIED CHICKEN FINGER RECIPE YOU WILL EVER FIND (if you like your chicken extra crispy, which I do, so… Best. Ever).
But before we get to the recipe… let me take you on a tangential adventure.
Yesterday I decided to experiment a little with some fancy photo lighting. Well, it's not really fancy. It's actually a big plastic box wrapped in tin foil with a giant light bulb in the middle of it. See, I have been terribly frustrated by the fact that I can only photograph food during the day, and even then it's a crap shoot (hahaha… see what I did there? Crap shoot… like photo shoot that's crappy… never mind). And I make a lot of yummy dinners that I can't share because indoor lighting isn't exactly ideal for food photography. So, I schlepped the kids to Menards, and got some stuff to make a couple softbox lights.  And ya know what? They work pretty alright!  I'll be posting a tutorial how to DIY your own softboxes for food or product photography, but for now I mention it because the photos in this post were taken in complete darkness except for my fancy new DIY softboxes! Not too shabby, eh  oven-fried mac and cheese balls, but I think once I get the hang of using artificial light, I'll be unstoppable.
Did I mention my mac and cheese balls were plastered all over Foodgawker? Oh yeah, oh yeah!  Happy dance!!
So back to the best part… the chicken fingers!!!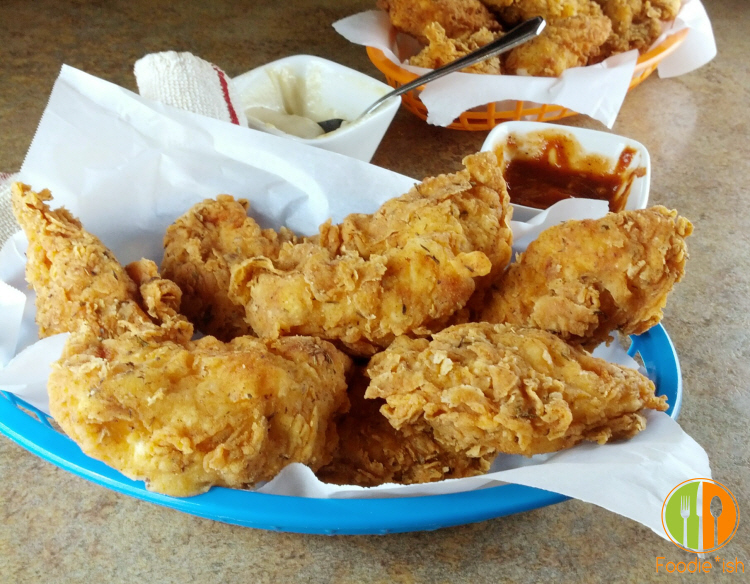 These are super crunchy, just how I like 'em. And they are actually deep-fried. It is one of the only things I ever actually deep-fry. But you can not mess with perfection, and let's be honest, you can oven-fry some pretty yummy chicken (like my crispy oven-fried chicken fingers with homemade panko), but it doesn't compete with actual crispity crunchity deep-fried chicken.
hese chicken fingers get their out-of-this-world crunch by a triple-dip process using a modified beer-batter and a flour dredge. I say modified, because I really don't care for beer batter unless it is on cod. I'm particular about my battered deep-fried foods. Instead, this batter uses 7-up. It adds all the carbonation of a beer, but without the sometimes-overpowering malt flavor. Trust me… try it once and you'll convert. So yum.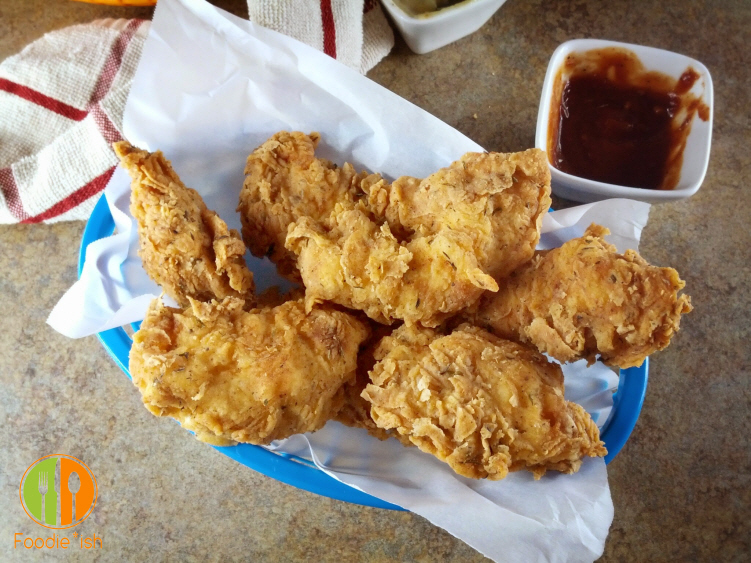 The flour dredge is seasoned with 10 herbs and spices. I have no idea if they are the same herbs and spices used in the famous fried chicken that hails from Kentucky, but I do know that my version does not contain MSG. So, there is that. And my spice blend has been tinkered with and tweaked over the course of many moons, and what we've got right here is damn delicious.
This fried chicken finger recipe, like my crispy baked chicken finger recipe, makes enough to feed a baseball team. My kids love it so much that I make sure to make plenty for left-overs. They grab them straight out of the fridge for breakfast — even the 2 year old. I'll be in the middle of making pancakes and they run straight for the cold fried chicken. They love it packed in lunches. They eat it as after-school snacks. They can't get enough. I use roughly 4 pounds of chicken to make roughly 25-30 chicken fingers, so if you don't want to have enough fingers to last the next week, reduce the amount of chicken you use accordingly.
I'm so excited to share this! You are gonna LOVE it!  Yay!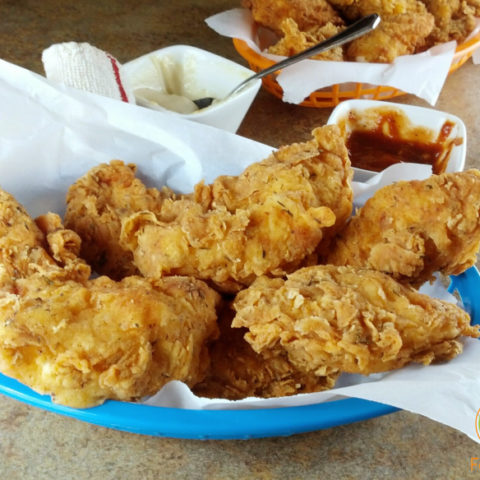 Extra Crispy Chicken Fingers
Yield:
30 chicken fingers
Total Time:
1 hour
30 minutes
World's best extra crispy batter-dipped chicken fingers. Seriously. Legit.
Ingredients
4 lbs boneless, skinless chicken breast cut into strips
4 1/2 cups all-purpose flour - divided
1 3/4 tsp ground pepper
4 tsp salt - divided
1 1/2 TBSP garlic powder
2 tsp rubbed sage
1 TBSP dried parsley
1 tsp dried thyme
2 tsp paprika
3/4 tsp cayenne (or more if you like it spicy*)
1/2 tsp crushed rosemary
2 tsp marjoram
2 cups lemon-lime soda
2 large egg yolks
Vegetable oil for frying
Instructions
Prepare chicken by slicing breasts into strips on a diagonal. You should get 5 -7 strips per breast.
Pour oil in a large high-walled pan on medium-high heat until oil reaches a temperature of roughly 365 degrees. It is ready when a small piece of batter dipped flour sizzles and fries quickly. I use a deep fryer set to 365 degrees.
Create a batter by combining 2 cups lemon-lime soda, 1 1/2 cups flour, 1 tsp salt, 1/4 tsp ground pepper, and egg yolks in a medium-sized bowl.
Create a flour dredge by combining all remaining dry ingredients in a 9 x 13 baking pan.
Prepare your chicken fingers by coating it in the flour dredge. Then dip it in the batter, shaking any excess off. Dredge in flour again, and set on a cooling rack to set. Repeat with remaining chicken strips.
Once your oil is hot, add 4-5 chicken fingers at a time and fry for 9-10 minutes per batch, turning the fingers after about 5 minutes. Place cooked chicken fingers on a cookie sheet lined with paper towels to cool for at least 15 minutes before serving.
Recommended Products
This site contains affiliate links to products. If you click-through and purchase an item, you will not pay a penny more than you otherwise would, but we may receive a small commission to help us keep the food in Foodie*ish. Thanks for your support!
Nutrition Information:
Yield:

10
Serving Size:

3 strips
Amount Per Serving:
Calories:

566
Total Fat:

10g
Saturated Fat:

3g
Trans Fat:

0g
Unsaturated Fat:

6g
Cholesterol:

210mg
Sodium:

1088mg
Carbohydrates:

50g
Fiber:

2g
Sugar:

5g
Protein:

64g
This website provides approximate nutrition information for convenience and as a courtesy only. Nutrition information can vary significantly for a recipe based on factors such as precision of measurements, brands, ingredient freshness, or the source of nutrition data. We strive to keep the information as accurate as possible, but make no warranties regarding its accuracy. We encourage readers to make their own calculations based on the actual ingredients used in your recipe, using your preferred nutrition calculator.