A Fancy-Pants Version of the Classic Mushroom Swiss Burger
The one where I remember the most rank breath my mom ever had, and it inspires the tastiest burger in the world.
Bring yo' self some paper towel, because it's about to get messy UP IN HERE!
Behold! The Weary Traveler Burger. It is a deeply savory burger, a pretty darn sophisticated take on a traditional mushroom Swiss burger, and hands-down the yummiest burger I have had in a LONG time.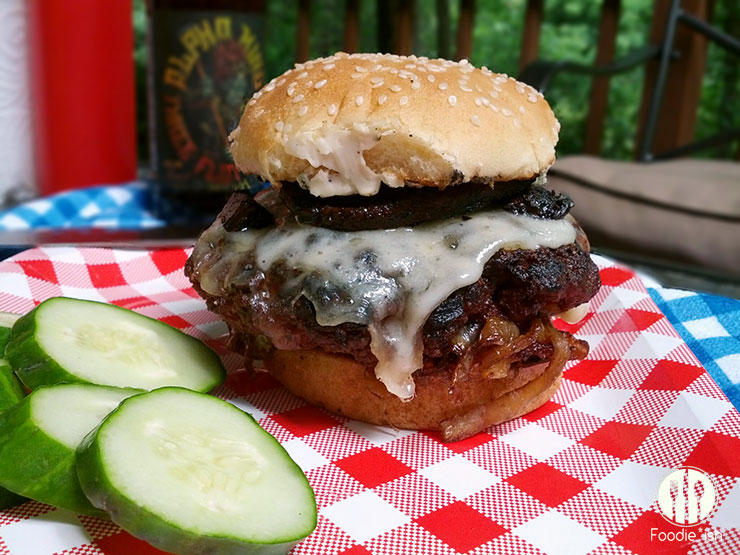 What's with the name, you ask? Well, I was struck by a bit of memory-lane and that inspired this elevated take on a mushroom Swiss burger, however the disconnect is pretty wide. So here's the story…
I grew up in Madison, WI. Known to some as "Utopia", home of the Badgers, the Terrace, and some damn good food and drink.
Damn good.
One of many restaurants I remember fondly and quite frankly, long for, is a place called the Weary Traveler Free House on Williamson Street. It's like what hipster was before hipster existed; before it had mustaches and suspenders and stupid large-wheeled bicycles and organic beer. It was what the life-style was before someone capitalized on making it cool and Target-ized it. It was honest. And eclectic. Loud, and intensely intimate at the same time. It was the conundrum that makes you feel instantly at home but also intrigued. It was awesomesauce. And I went there every chance I got.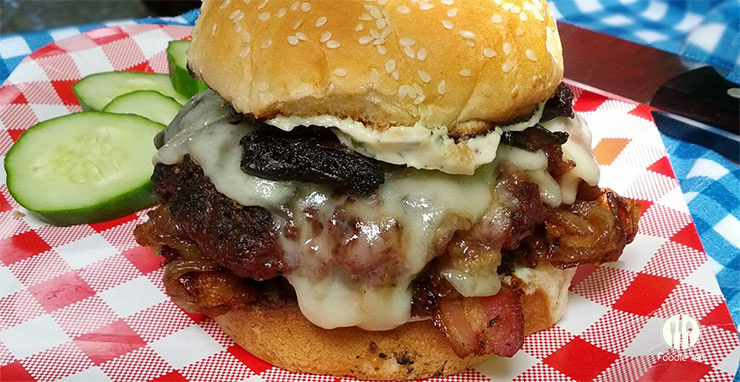 I usually ordered Hungarian Goulash, (which is still on the menu, BTW). It was super delish, really authentic, hearty, and well balanced. My mom on the other hand, always ordered "Bob's Bad Breath Burger", which inspired my pinkies-up take on a mushroom Swiss burger. And bad breath is exactly what it did. For days. Stank breath, and a general garlic perfume that lingered as you walked by; that made babies tremble in fear and made grown men cry.
It was super delicious though, so totally worth being ostracized for a couple days.
I knew my hubs wouldn't go for a oozing-out-your-pores garlicky burger like the bad-breath behemoth is because, well, I'm not sure why. He works at home so it's not like he has to protect the sensibilities of hos co-workers. But anyway, I wanted something that was reminiscent of that delicious garlicky goodness that is the Weary Traveler's signature burger, but not quite so "BAM!!!! GARLIC!!". So I thought I'd tame it down a bit by roasting the garlic and adding it to creamy Swiss cheese with a sprinkle of parsley. It wouldn't be a mushroom-swiss burger without some super delicious mushrooms (sauteed in a little balsamic vinegar, ya know… to fancy it up a little). According to at least one school of culinary thought, if it don't have have caramelized onions, it ain't a burger. It's a fact (that I just made up) so it had to have some of that yummy goodness.
And of course, thick cut BAAYY-CAAAAAN (that's "bacon" in Oprah voice).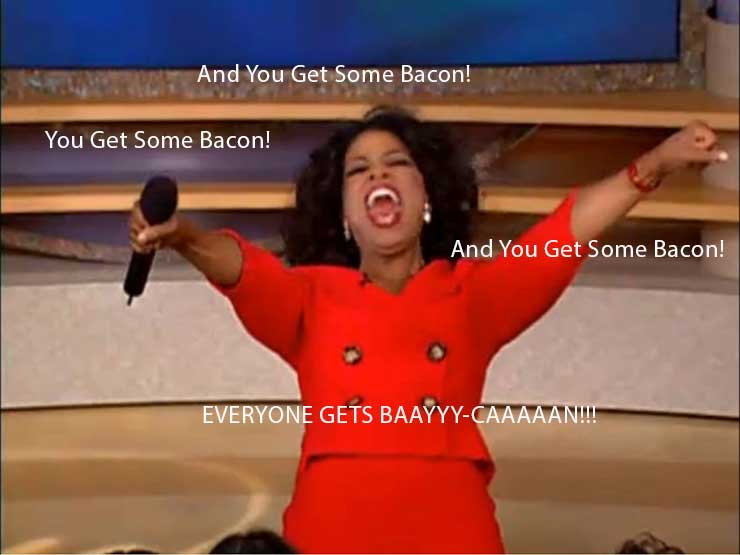 It is messy… I'm not gonna lie. Like, roll up your sleeves and hunch over your plate messy, probably-need-a-kitchen-towel-as-opposed-to-a-napkin kind of messy. So maybe not first-date friendly (unless you're hoping to end the night with a nice "getting to know you" couples shower, wink wink). And it ain't pretty… but it is damn tasty. Even my 2 year old loved it. He literally grabbed it out of my hands after I gave him a taste I thought for sure would be offensive to his delicate taste buds. Silly mommy… good food is your food 😉
So let me know if ya make it and what you think, and be sure to post a photo on instagram with the hashtag: #foodieish. Oh, and if you find yourself in Utopia, you should definitely check out The Weary Traveler Freehouse restuarant.
Peace out, garlic breath!
[recipe title="The Weary Traveler Mushroom Swiss Burger" servings="3 burgers" time="60min" difficulty="medium"]
Roasted Garlic Swiss Cheese Spread
garlic 1 Bulb
olive oil 1 tsp
salt & cracked black pepper to taste
Laughing Cow spreadable Swiss cheese 5 wedges
dried parsley 1/2 tsp
Balsamic Sauteed Mushrooms
Portabella mushroom caps, Sliced 1/2 inch thick 2 caps
balsamic vinegar 1/4 cup
dijon mustard 1 TBSP
fresh rosemary, super finely chopped 1 tsp
olive oil 1 tsp
Main Ingredients
butter 1 1/2 TBSP
yellow onion finely sliced into rings 1 Large
thick-sliced bacon 6 slices
ground beef - 85/15 1.3 lbs
salt & pepper to taste
Swiss cheese slices 3
large hamburger buns or kaiser rolls 3
Directions
Preheat oven to 300 degrees. Chop of the top of the bulb of garlic, and place it on a piece of aluminum foil large enough to wrap around the entire bulb. Drizzle the cut side with 1 tsp oilve oil, and sprinkle with a little salt and cracked black pepper. Wrap tightly in the aluminum and bake for about 45 minutes, or until the closes are very soft.
Slice yellow onion thinly and heat 1 1/2 TBSP of butter in a skillet at medium heat. Add onions and cook for about 4 minutes or until they start to soften. Lower heat to medium-low and cook until onions are well-caramelized (it takes me about 20-25 minutes).
Once your garlic is roasted, take it out of the oven and let it cool. Take your Laughing Cow Swiss cheese wedges out of the fridge to let them soften while your garlic cools. Once the garlic is cool enough to handle, combine it with your softened Laughing Cow Swiss cheese, parsley and season with pepper to your liking. Set aside.
Meanwhile, prepare the mushrooms by slicing your portabella caps into roughly 1/2 inch thich slices, and set aside. In a small bowl, whisk balsamic vinegar, dijon mustard, and rosemary in a small bow until combined.
Add 1 tsp olive oil to a medium sized skillet and heat over medium heat. Add mushroom slices and cook until just softened (about 3-5 minutes). Add balsamic vinaigrette and cook until mushrooms are tender and sauce has thickened a bit (about 5-8 minutes).
While your mushrooms are sauteing, cook your bacon until crispy and drain on paper towels. Set aside.
Heat your indoor or outdoor grill (roughly 350 degrees). Toast your buns by placing them cut-side down on the hot grill for about a minute. Once toasted, set aside.
Prepare your burgers. In a large bowl, add ground beef and 1 whole egg, and liberally salt and pepper. Gently fold the egg into the meat and form into 3 patties. Grill until almost cooked to your liking. Top with a slice of Swiss cheese and cook until it melts (you may want to loosely cover with aluminum foil to encourage melting if you are using an indoor grill).
Top the bottom half the burger buns with two slices of bacon per bun (you can break them up to fit more easily), and top each with about 1/3 of the caramelized onions. Place the burger on top and top about 1/3 of the sauteed mushroom on each burger. Spread a healthy swipe of the garlic Swiss cheese spread on the top bun, and place on top of the burgers.  Enjoy!
*Recipe Note: I like BIG burgers, and I can not lie. These result in a roughly 1/3 lb burger after cooking. If that is a bit much for you, add an additional bun and an additional slice of Swiss cheese to the preparation and divide your meat into 4 patties instead of 3.
This is an original recipe by Glory Thorpe of Foodie*ish and was originally published on Foodieish.com. All content and photos ©2015 Foodie*ish.  All Rights Reserved. 
[/recipe]
[wysija_form id="4″]