Swirly Cone Dinner Rolls
(The Cutest Damn Dinner Rolls You'll Ever Find)
This is the one where I contemplate a cruel joke, my children become carb-addicts, I bust out a cookbook older than I am, and my husband smiles at a muffin tin.
Have your kids ever requested dinner rolls as a snack? Yeah, I would have thought that was sort of a bizarre question too, until Easter rolled around and I made these adorable Swirly Cone Dinner Rolls. I had no idea a bread could be so exciting, but apparently if you make something kinda standard look like a treat, even the biggest critics will suddenly go ga-ga.
I have made these twice since Easter (and it's only Thursday) because my kids can't get enough. My oldest will eat a half dozen a day. He's not much of an eater and is extremely picky, so, yes sir, you may have another dinner roll. And ya know what? They are so stinking cute that even my husband cracked a smile when he saw them. I mean, if you can get a big, cranky, workaholic to smile at bread, you've got a winner.
The recipe is a fairly standard dinner roll recipe. I adapted this from my trusty circa 1972 Betty Crocker cookbook. Sometimes, it's not so much about what's in the dough as it is about what you do with it (although, this dough is pretty darn good… I guess there is a reason Betty's been queen bee for over half a decade). In this case, I think you could probably use any ol' dinner roll recipe you like and no matter what, people are gonna want to eat them. It could be a lot of fun to add some parsley and dried red pepper flakes to make it look like they have sprinkles. Not crushed red pepper mind you… rather, actual dried sweet pepper, or else your friends and family will never trust you again.
Although…
No. That would be cruel.
Anyhoo…
So… try these out at your next gathering. I promise they will fly off the table. And also… be ready to make them ALL THE TIME. Thankfully they are easy-peasy 😉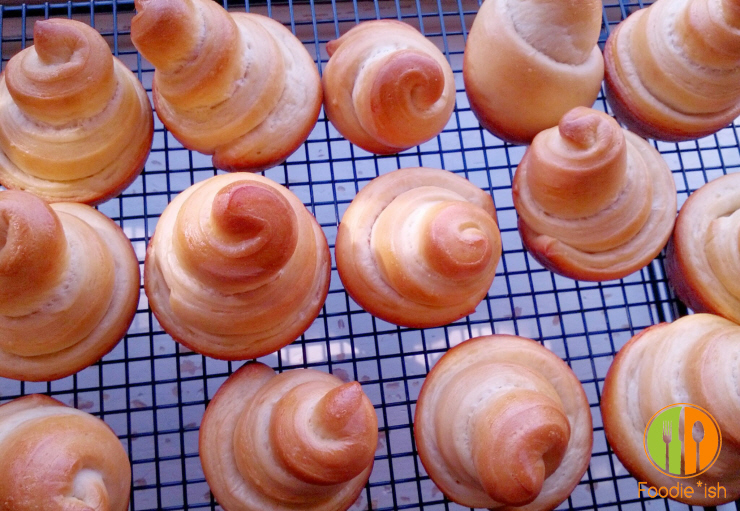 I can't wait to hear what your friends and family say about these little cuties!
[recipe title= "Swirly Cone Dinner Rolls" servings= "18 rolls" time= "35 min, 2 hours passive" difficulty= "easy"]
Ingredients
rapid-rise yeast 2 1/4 tsp
water 1/4 cup
milk 3/4 cup
butter 1/4 cup
sugar 1/4 cup
flour 3 1/2 - 3 3/4 cups
salt tsp
eggs, divided 2 large
Directions
Combine milk, water, and butter in a microwave safe bowl, and microwave until butter is almost completely melted, about 60 seconds. Let cool until roughly 110 degrees.
Meanwhile, in the bowl of a standing mixer, combine 2 cups of flour, sugar, salt, and yeast with a paddle attachment. Once your milk mixture has cooled a bit, add to mixing bowl and add one egg. Mix until thoroughly combined. Switch to the dough hook and add an additional cup of flour. Knead on a low speed (3) until your dough comes together. Add an additional 1/2 – 3/4 cup of flour as needed. Knead with mixer for 5 minutes.
Your dough should be only slightly sticky. Take it out and hand-knead on the counter, incorporating only as much flour as necessary to create an elastic, smooth dough ball. Place in a well greased bowl and flip over to coat. Cover with plastic wrap and let sit in a warm location to rise until double, about 90 minutes.
Once your dough has risen, cut into two halves. Working with one half at a time, roll into a roughly 13″ x 9″ rectangle. Cut into nine 1 1/2″ strips along the width, so you will have nine 9″ long strips, each about 1 1/2 inch wide.
Roll each strip like you would a jelly-roll, however you want to roll at an angle, so you end up with a roll that look like a very small swirly cone. Place the widest end in the cup of a well-greased muffin tin and put down to flatten. Repeat with remaining strips.  You will end up with a total of 18 rolls. Cover loosely with plastic wrap and let rise again for 20-30 minutes or until puffed.
Preheat oven to 350. Add 2 tbsp of water to remaining egg and whisk to create an egg wash. Brush egg wash over rolls and bake for 20 minutes or until golden. When done, remove rolls from the muffin tins and let cool on a cooling rack.
Recipe notes:
*Adapted from the Traditional Roll Dough recipe in The Betty Crocker Cookbook, 1972.
This is an original recipe by Glory Thorpe of Foodie*ish and was originally published on Foodieish.com. All content and photos ©2015 Foodie*ish.  All Rights Reserved. 
[/recipe]
---
[wysija_form id="4″]