Prepare-Ahead Cinnamon-Sugar Breakfast Puffs
The one where I publicly commit to running a 5k race on Thanksgiving. Pretty much just to make sure my family doesn't bail on me.
Again.
Is it weird that I am already thinking about the holidays? I'm not one of those Christmas in July kind of people. Yet I find myself already thinking about Thanksgiving and Christmas. But not in the traditional, lets get a bunch of pumpkins and hay bales and stuff. More like "mmmm… what are we gonna eat???".
This year I will be hosting both Thanksgiving and Christmas. For the last few years I haven't been with my extended family for Thanksgiving and that is a bummer. So this year I made sure that we would get together or there would be hell to pay.
How?
I registered for my FIRST 5K RACE!!!
AAAGGGGHHHHH!!! (omg, omg, now I actually have to DO IT!!! Omg. What was I thinking?).
Actually,  I am really excited! I signed up with a "walk-to-run" group at the Y (if you are not familiar, it is essentially a group of folks who can't run for the life of themselves, and they all get a coach to force them to do it three times a week). It is really great to have a group of ladies who are pretty much in the same boat – kinda out of shape, but want to learn to run in an effort to make it part of our lifestyles. It's not something I ever saw myself doing (I used to hate running) but I have found that it is an incredibly powerful thing. It is a personal challenge, and it makes me feel so good when I see how far I've gone (and how many calories I burned).  😉 I can see why people kind of get addicted to it.
It has also inspired me to get back on My Fitness Pal and start, I don't know, actually being cognizant of the things I am stuffing in my face. Maybe I'll lose this baby-weight that is really no longer baby-weight and has just become mom-fat. I mean after 2 1/2 years, it's no longer baby-weight, lets be real.
So all good things, and my family will be here to watch me cross the finish-line on Thanksgiving morning (hopefully on foot and not in the back of an emergency vehicle) and my mom and I will prepare the awesomest Thanksgiving meal EVER!
Anyway… this actually all ties into this super easy, super yummy (super cheap) prepare-ahead cinnamon-sugar breakfast puff recipe. How? Because it is super simple, can be prepared ahead, and can feed a truck-load of out-of-towners, that's how.
And it will be on the Christmas morning menu, fo' sho.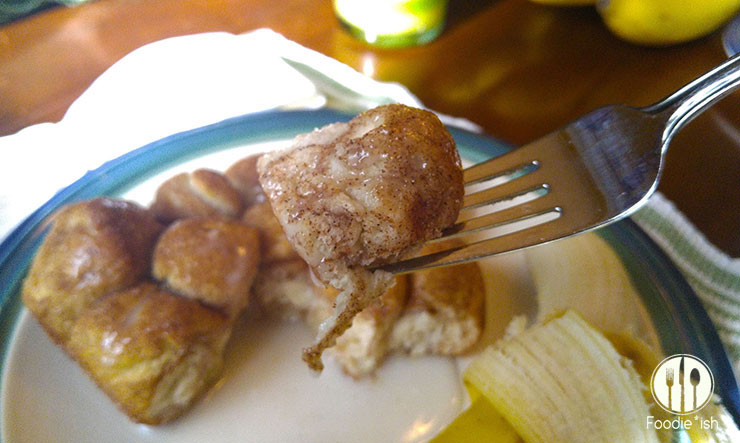 I am a huge fan of easy prepare-ahead breakfast dishes around the holidays, because you cook so damn much that it's nice just to pop something in the oven and 30 minutes later, "boom!" Eats!!! I have a delicious ham and cheesy hash brown casserole you should check out too if you're looking for other prepare-ahead breakfast ideas. And I will post my favorite spinach-artichoke smoked sausage egg bake soon. But for now, I give you this easy, sweet, and delicious prepare-ahead cinnamon-sugar breakfast puff bake.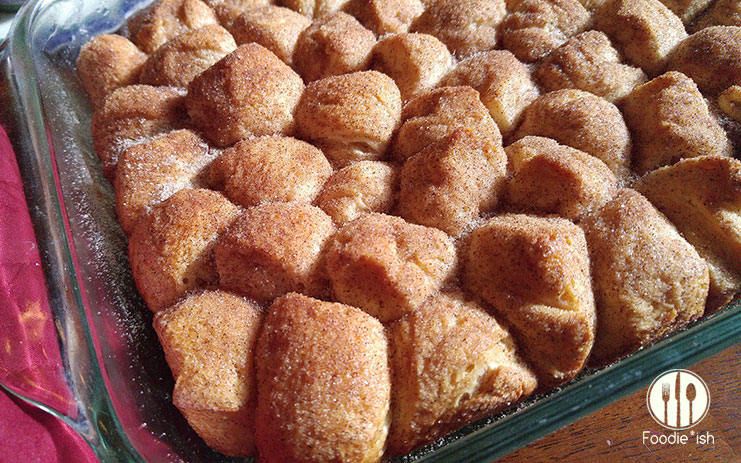 So, what are your favorite prepare-ahead breakfast dishes? I'd love to add more to my arsenal 😉 And don't forget to send me pics of your foodie*ish creations via instagram or facebook!
*This post includes Amazon Affiliate links. If you click the link and choose to buy anything via Amazon, I will receive a small commission. Your purchase price is not affected at all. Thanks for supporting Foodie*ish!
[recipe title="Prepare-Ahead Cinnamon-Sugar Breakfast Puffs" servings="8″ time="35min" difficulty="easy"]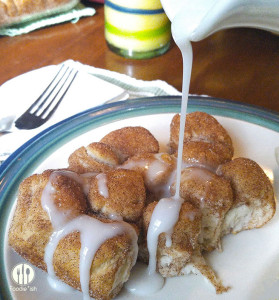 Ingredients
Butter - Cold (for greasing pan) 2 TBSP
granulated sugar 1/2 cup
ground cinnamon 2 tsp
butter - melted 2 TBSP
Refrigerated Biscuits - large 2 rolls
powdered sugar 2/3 cup
water 1 1/2 tbsp
vanilla extract 1/2 tsp
Directions
Preheat oven to 35o degrees (if baking now).
Use the cold butter to grease a 9×13 glass baking dish. Make sure to get the corners and sides.
Melt remaining 2 TBSP of butter in a small bowl. In a separate small bowl, combine granulated sugar and cinnamon. Set aside.
Cut the refrigerated biscuits into quarters. Roll into ball shape (it doesn't need to be perfect, a quick roll will do) and roll in cinnamon-sugar mixture until coated and place in the greased baking dish in a single even layer.
Brush melted butter over the top of the puffs and liberally sprinkle more cinnamon-sugar on top.
At this point you can wrap with aluminum foil and refrigerate until morning. Pop it in the oven and bake at 350 for 25-28 minutes when you're ready to serve. Take out and let cool for 10 minutes.
Meanwhile, prepare glaze by combining powdered sugar, vanilla and water. Drizzle on warm breakfast puffs. Enjoy!
This is an original recipe by Glory Thorpe of Foodie*ish and was originally published on Foodieish.com. All content and photos ©2015 Foodie*ish.  All Rights Reserved. 
[/recipe]
[wysija_form id="4″]