Peanut Pork with Peppers (and Pasta)
The one where I recall almost dying during childbirth, but on the bright side, this delicious peanut pork recipe was born.
And a child. A child was also born.
So, this may be a bit of TMI for those of you who don't know me, and if that is the case, I apologize. And also I don't really mean it, because I am kind of full of TMI. I have no reliable filter. Just FYI. Anyhoo… there was this one time, I decided to get knocked-up. I was super excited, and incredibly nervous. If you have ever been pregnant, you know that "the pregnancy" is an actual industry. And I am pretty sure the pregnancy industry is hell-bent on scarring the crap out of first-time moms and dads. Everything I read essentially convinced me that I was invariably and unquestionably permanently damaging my unborn child. Don't eat this or your fetus WILL DIE!! Don't drink this, or lie down this way… don't move like this, or wear your seat-belt like this, or for everything that is good and holy, do not smoke this!!! It was terrifying. So much so, my husband actually barbequed my what to expect when you're expecting book. His wise words provided necessary comfort, "Women have been doing this for thousands of years. I'm pretty sure you got this".
I heart that guy so much.
But in any event, of course, even with my overly concerned careful and conscientious pregnanting, something went horribly wrong about a week before I was due. I woke up, and went to the bathroom, and found I was bleeding quite a bit.
Oh my God. No. no. no no no no NOOOO!
I immediately went to my OB who eased my panic and very calmly said, "well, you're having a baby today! And you need to get to the hospital, STAT!." (Okay, I added the STAT, but it was implied).
I wasn't even packed. And I wanted McDonalds.
Long story short, they induced labor, gave me a shot of epidural that was so strong I literally couldn't feel my body for 12 hours, and I birthed a healthy, gorgeous, turn-you-into-a-ball-of-happy-crying-goo, baby boy.
And I was hemorrhaging.
Luckily, a bunch of coagulates later, it stopped. And I didn't become a statistic. But I lost so much blood that it took me two weeks to be able to go to the grocery store for milk. With someone holding my arm to help me walk around without falling over. I could barely care for my newborn because even basic things like taking a shower exhausted me to the point where I would need a nap. I was a mess of weakness and exhaustion. And that is totally not my style.
Thankfully, my mom was able to come stay with me for a while as I recovered. Thankfully, for so many reasons, but mostly because if it were just my husband and I, I would have had to eat Hot Pockets the whole time because that guy can't cook. At all. And I HATE Hot Pockets. My mom, however is a pretty good cook. So in addition to helping me adjust in my weakened state to my new life as a mom, she also prepared me some pretty yummy eats. A peanut pork dish with noodles is the only one I recall though. And I recall it because it was amazing, unexpected, and unlike anything I had ever tried before.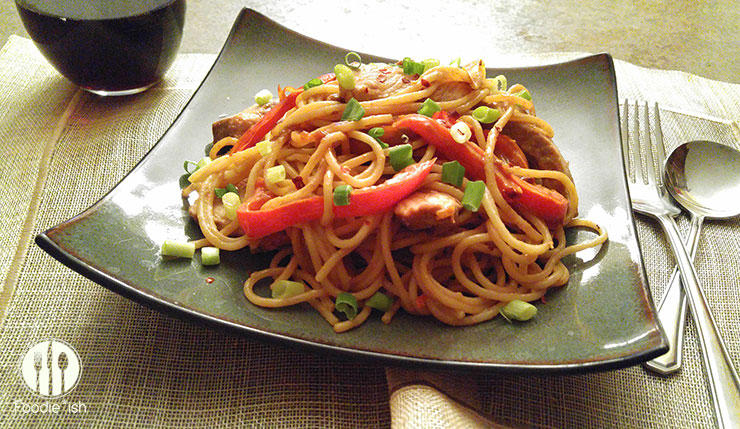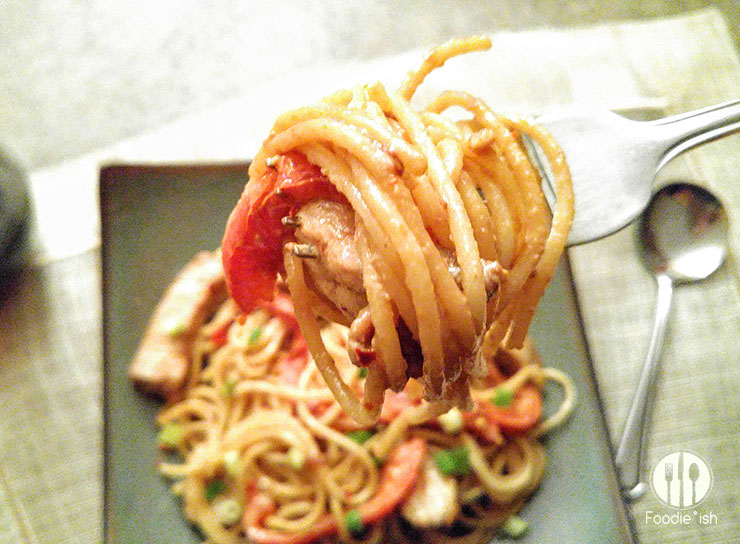 This isn't her exact recipe, because I actually created this as a left-over make-over meal using marinated pork chops that I had prepared a couple nights before. And honestly, this was even better than the real thing (sorry, mom).  So, this recipe is actually a 2-in-1 recipe. You can use the marinade as a stand alone dish for pork chops, and simmer the left-over marinade down as a glaze, AND you can use left-over (cooked or uncooked) marinated pork chops in this peanut pork with peppers dish. A 2-fer! Boom!
I try to shop the grocery sales when planning my menus, and this 2-for-1 recipe is awesome when you can get a large boneless pork loin on sale. Just trim it, and portion it up into 8 or 9 chops and you can use half for a stand-alone marinated pork chop dinner, and the other half for this peanut pork with peppers dish. The recipe as written below assumes you will just be making the peanut pork with peppers, but you can buy a bigger pork loin and use half for one night, and half for this recipe. No need to change the proportions. There is enough marinade for a pork loin twice the size noted in the recipe.
So this peanut pork with peppers recipe is budget-friendly, pretty, tasty, easy, and pretty quick. Not too shabby! Be sure to let me know what you think when you try it in the comments below, and post any of your favorite food pics on instagram with #foodieish and I'll be sure to see your masterpiece!
And also… thanks mom, for inspiring this awesome dish. And also for not letting me die after the big little minion was born. 🙂
[recipe title="Peanut Pork with Peppers (and pasta)" servings="4″ time="35min" difficulty="easy"]
Marinade
orange marmalade 1/3 cup
soy sauce 4 TBSP
Balsamic vinegar 4 TBSP
olive oil 2 TBSP
fresh ginger, grated 1/2 tsp
garlic, pressed or grated 3 cloves
red pepper flakes a pinch
boneless pork loin roughly 2.5 lbs
Directions
Trim silverskin and excess fat off pork loin and cut into 1 1/2″ thick chops.
Combine all ingredients for marinade and pour into a container just large enough to fit all your chops. Add chops, poke each one a couple times with a fork, and flip over. Place in fridge and let marinate for at least 4 hours, turning occasionally.
Peanut Pepper Pork
bell peppers 1 red, 1 yellow
creamy peanut butter 3 TBSP
garlic, pressed or grated 1 clove
white vinegar 2 TBSP
brown sugar 2 TBSP
soy sauce 3 TBSP
red pepper flakes a pinch
olive oil 3 tsp - divided
sesame oil 1 tsp
spaghetti pasta 1/2 lb
scallions - chopped 3
lime - cut into quarters 1 for garnish (optional)
Directions
Prepare the peanut sauce by combining peanut butter, soy sauce, white vinegar, brown sugar and red pepper flakes. Whisk until smooth.
Once your chops are marinated, slice peppers into thin strips and slice your pork chops into strips.
Put a large pot of water on high heat and bring to a boil. Once boiling, liberally salt the water and cook pasta until al dente (about 8-9 minutes).
Drain pasta and pour sesame oil over the noodles in the strainer and toss. (This prevents the pasta from sticking together and also adds another level of flavor when you put the whole dish together).
Meanwhile, add 1 1/2 tsp olive oil to a non-stick skillet and heat over medium heat. Add peppers, and cook until softened a bit and slightly charred (about 10 minutes). Put in a bowl and set aside.
Add remaining olive oil and add your grated garlic clove and cook until fragrant (about 30 seconds). Add pork strips and cook until done, about 8 minutes. Put in the bowl with the peppers and set aside.
Pour peanut sauce into skillet and bring to a simmer. Add pork and pepper strips and pasta. Toss to coat and warm for about 1 minute. Remove from heat and divide among 4 plates. Top with chopped scallions and serve with a lime quarter. Enjoy!
This is an original recipe by Glory Thorpe of Foodie*ish and was originally published on Foodieish.com. All content and photos ©2015 Foodie*ish.  All Rights Reserved. 
[/recipe]
[wysija_form id="4″]