Low and Slow Marinara Sauce
The one where I explain how you should really be interpreting your burner settings, I get all up in your face about canned tomatoes, and take seductive photos of marinara sauce and bread. Take seductive photos OF… not WITH marinara and bread. Don't get crazy on me.

Some days call for slow food. You know what I mean, food that takes a while to prepare, not because you're actively tending to it, but food that just takes a while to cook… low and slow. Today is definitely one of those days. It is cold and grey and hailing today (actually it was four days ago when I started to write this, but I can remember it like it was yesterday).  If I had plans today four days ago, it would be have been the perfect day to break them because to be honest, the thought of leaving makes made my joints ache.
It's a It was a perfect day to sit on the couch and watch Monsters Inc. with the little monsters. And also a perfect day to cook something hearty and heartwarming and slow. And warm. Because it is freezing in this mutha. (That is still true… it is in fact currently freezing in this mutha).
Tonight I plan to make Penne with Homemade Turkey Meatballs (tonight, tonight, not four days ago-night), but before I can get into that, I needed to get my Low and Slow Marinara sauce ready. Low and slow because (wait for it…) you cook it on low, and it takes a long-ass time. Well, a long time in today's 15-minute meal world, I guess. If you've got an hour to check on your stove here and there, then you can have yourself the yummiest marinara ya ever did try.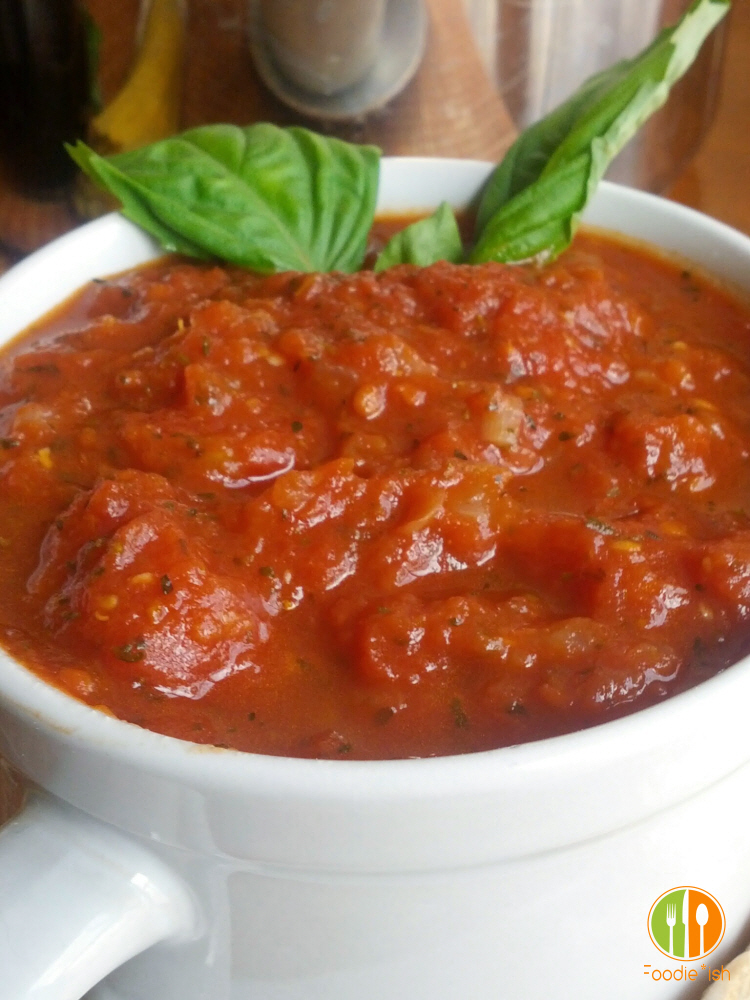 When I was a kid, my mom would make red sauce and by the time she was done it would pretty much be splattered on everything within a 3 foot radius. Why? Because for some reason red sauces love to jump out of the pot if they are cooked at even a moderately warm temperature. And she often was trying to beat the clock because she had two ravenous kids and a husband suffering from can't-get-the-hell-out-of-my-kitchen-so-I-can-cook syndrome. So she'd set the burner temperature to boil-your-face-off and clean up the mess after the horde had ransacked the dinner table.
And although I am not a neat freak by any stretch of the imagination, I can't stand a messy kitchen. I clean while I cook almost at an OCD level. But that is also the reason I am totally cool with a low and slow marinara. You know the temperature is right if it does not leap out of the pan all over your clean stove-top, counter, and backsplash. So no mess. But the trade-off is time. You want to simmer this sauce at a temperature in between Mr. Miyagi-could-warm-this-faster-with-his-hands, and I-could-probably-fry-an-egg-but-I-don't-have-35-minutes.
I've got some time today, so word!
This marinara sauce is really simple and is very foodie*ish, meaning you can pretty much adjust and substitute herbs and spices to your liking or based on what you have on hand (but it is perfect as written, just FYI). One teeny little side note though… I have found that Marjoram really takes a red sauce to a new level. I started using it in pizza sauce based on a recommendation and as soon as I did I felt like I was the only girl in a sea of Adam Levines. That. That is what had been missing in my life. It is a delicate, sort of flowery herb and it's not really something you should pick up easily when you taste your sauce, meaning it's not like garlic which, even when included in a cacophony of ingredients can punch you right in the face if you're not careful. But rather, it sort of quietly brings the whole ensemble together. So if you don't have any Marjoram, next time you are at the grocery, grab a small bottle and experiment. I use dried Marjoram from Penzey's.
The other secret is Parmesan. OH MY nutty, salty goodness! It mellows the tomatoes a bit and gives the perfect little bit of salt and, well, for lack of a better word, oomph. Parmesan gives the oomph to the sauce. Plus cheese is dairy and dairy is good for you (I often rationalize my household cheese consumption which may or may not be inordinately excessive, if like 3 pounds a week is a lot, which it totally is not).
Moving on…
This marinara is perfect as-is over pasta with meatballs, or you can add ground beef, pork, or turkey to make a meat sauce. It also makes an excellent dipping sauce for soft bread sticks or my No-Fail Ciabatta Bread. I couldn't help but mangiare a loaf a piece while taking these photos. It really is so good you could stuff yourself so much on bread and marinara alone that the thought of making a pasta dinner is sort of… well… probably not gonna happen now. Oh well. 😉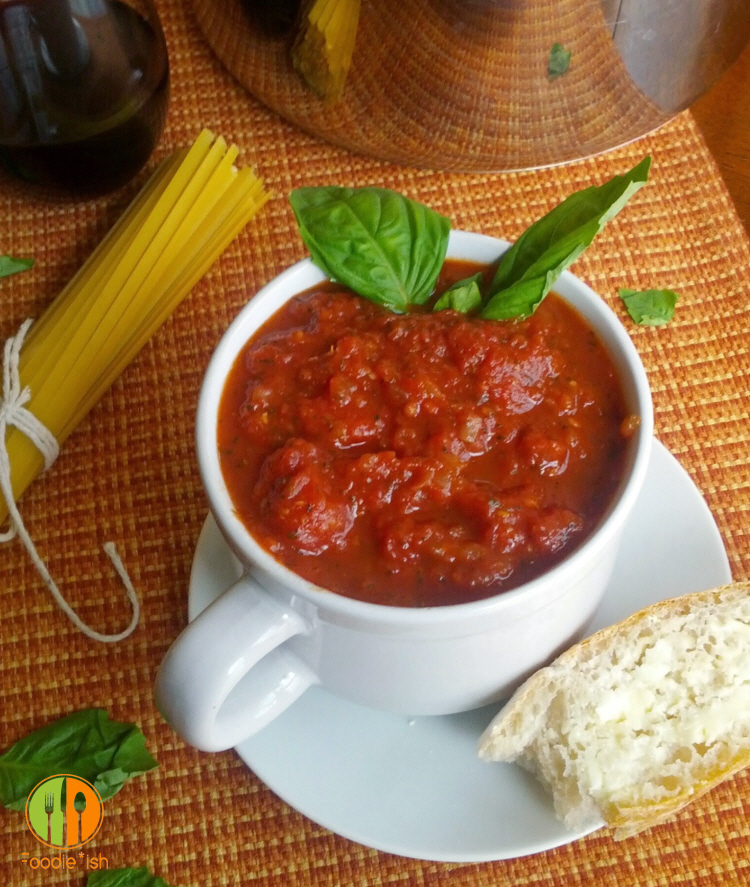 [recipe title="Low and Slow Marinara Sauce" servings="4 cups" time="65min" difficulty="easy"]
Ingredients
olive oil 1 tbsp
onion 1/2, finely chopped
Garlic 3 cloves, crushed or finely chopped
crushed tomatoes 28 oz can
dice tomatoes 14.5 oz can
dried basil 2 tsp
dried marjoram 1 tsp
dried thyme 1/2 tsp
crushed rosemary 1/4 tsp
bay leaves 2
crushed red pepper flakes a pinch
freshly grated parmesan 1/4 cup
salt and pepper to taste
basil, chiffonade 1 tbsp
sugar 0-2 tsp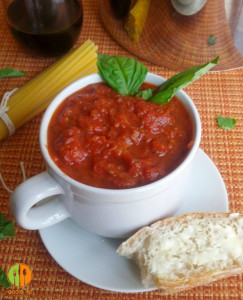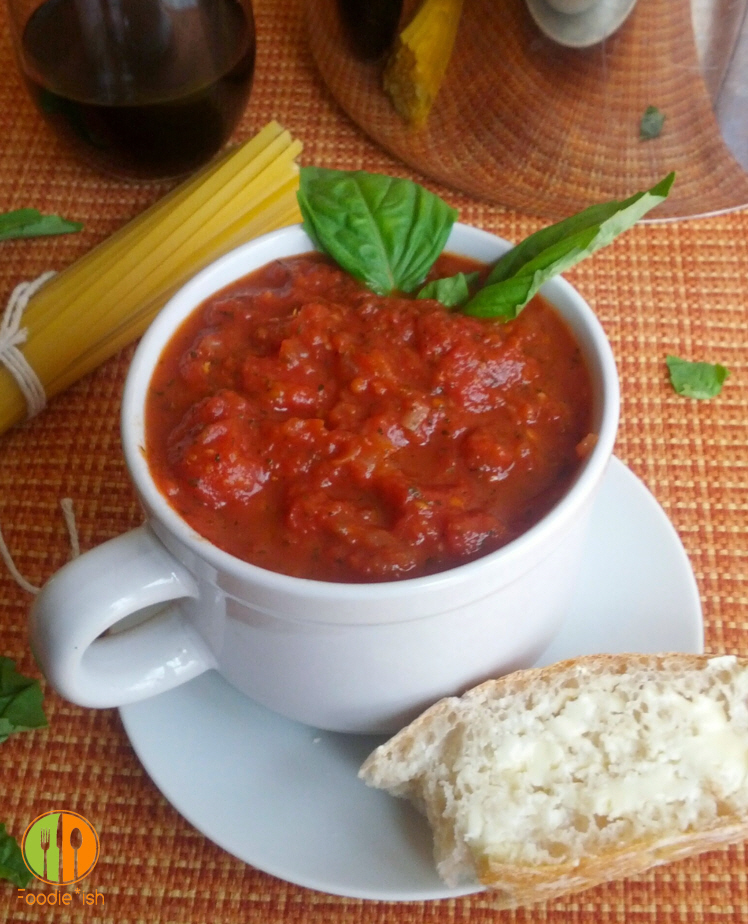 Directions
Heat olive oil in a 3 quart sauce pan over medium heat. Add diced onions and cook until translucent and fragrant, about 4 minutes.  Add crushed garlic and cook 1 minute until garlic is fragrant. Do not let it brown.
Add crushed tomatoes and diced tomatoes (do not drain). Add all spices and herbs except salt and sugar and stir well. Bring to a simmer and turn heat down to low. You want a very low and slow simmer for 1 hour, stirring every 10 to 15 minutes.
After simmering very low for about 45 minutes, check your seasoning. If it is too acidic for your liking, add sugar 1/2 tsp at a time. I recommend letting it cook a bit after each addition. Add grated Parmesan and stir. Let cook 5 minutes and check seasoning. Add salt and pepper to taste.
After about an hour, your sauce should have thickened and reduced about 1/3. Take off the heat and stir in fresh basil if you'd like and serve immediately, or let cool and store in an air-tight container in the fridge for up-to a week.
This is an original recipe by Glory Thorpe of Foodie*ish and was originally published on Foodieish.com. All content and photos ©2015 Foodie*ish.  All Rights Reserved. 
[/recipe]
I'm sure you noticed I listed sugar as 0-2 tsp, which may or may not have left you thinking I don't know what the hell I am doing. But, hold up… let me explain. The reason I give you a range is because canned tomatoes are still real-life actual grown-from-the-dirt tomatoes, grown in varying conditions, harvested at varying degrees of ripeness from varying locales. A home-grown tomato plucked at the very peak of ripeness is very sweet, while an unripened green tomato is not. And unless you canned it yourself, you have really no idea what kind of tomatoes are in that can, how ripe they are, or even when they were picked.  So…
… add a bit of sugar if it needs it, but wait at least half an hour after you start simmering, as the cooking process will bring out some of the natural sweetness of the tomatoes. But, sometimes, a little sugar is necessary. Just sayin'.
---
[wysija_form id="4″]