The Sandwich To End All Sandwiches. Literally.
The one where I single-handedly blow the power out of an entire building with a toaster oven, I am tenacious about sandwich-making, and I cook in a kitchen no larger than a thimble.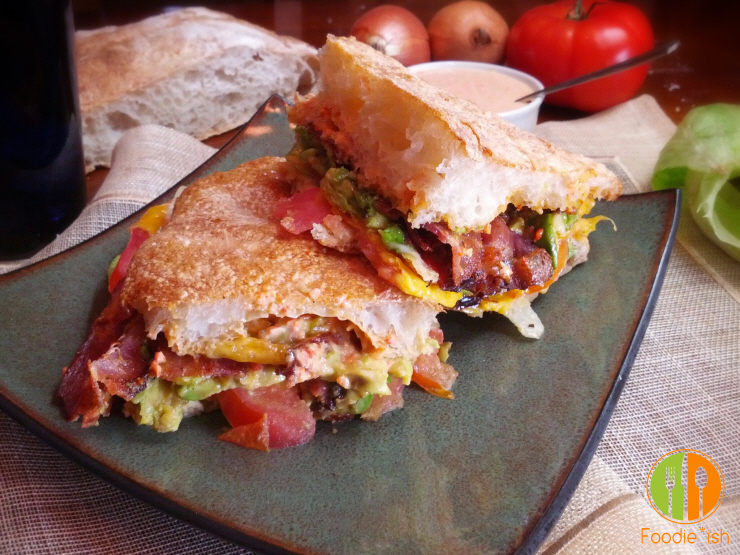 After posting the recipe for the Best Deli Sandwich Bread Ever, I remembered one of the first things I ever "cooked" after I left for college was a BLT sandwich. Oh man, I was not prepared to sustain myself in the eats department when I left home. I subsisted mostly on minute-rice, frozen vegetables, and soy sauce. And it wasn't out of necessity because I was poor (although I definitely was); I just had no idea how to cook. And my tiny studio apartment with it's eighteen inches of counter-space wasn't exactly the place to master the culinary basics.  So the night I decided to make BLT sandwiches — which required both the stove and a toaster — was a BIG deal. Hey, we all have to start somewhere.  😉
Well, it turned out to be a much bigger deal than one could ever imagine. I lived in a second-story studio apartment in a building whose electrical system was as old as Tesla himself, so, as it turns out, utilizing both the stove and a toaster was simply too much for this tenement to handle.  I was cooking bacon on the range and plugged in my toaster oven in order to, you know, toast some bread, and apparently this small counter-top appliance was the David to the Goliath that was my entire building!
I plugged it in, turned it on, and poof! Darkness fell. Darkness in my tiny stupid studio, darkness in the three other second-story flats, and ironically, darkness in one of the most popular sandwich shoppes in town.
So, yeah…
Nailed it.
It took about an hour to get the lights back on, and I was terrified to continue plodding through my sandwich prep, but I was determined to succeed. So I unplugged just about everything in my apartment and apologized profusely to the guy I was trying to impress with a sandwich, because, you know, sandwiches seal the deal, right? I unplugged my computer, all the lamps, my alarm clock… and then with bitten lip, I turned on the toaster oven. And for all that is good and tasty, the power stayed on! Hallelujah and ham! Victory was mine and it tasted like BLT's baby!!
Well, things have changed quite a bit since those days. I have gained significant confidence in the kitchen, but it clearly was not without some disasters. And now a BLT sounds about as basic as it can get. Unless…
You fancy that BLT up a bit with roasted garlic and red pepper aioli, some delicious and perfectly ripe avocado, and the best thick-sliced bacon you can find. Oh, and put it all on homemade ciabatta bread and cover it with Swiss and Cheddar cheese and turn it into a melt. A melty, savory, rich, and bright version of your standard BLT. Now that is the way to a man's heart. At least, my man was a happy camper. Which is good, because a few days later, I would attempt to kill him with my "Give 'Em A Heart Attack" Loaded Baked Potato.
So here's the Foodie*ish version of the sandwich that blew the power out of an entire building and proved that even the simplest things can present enormous challenges.
Challenges that help you become a better cook. 🙂
[recipe title="BLT With Avocado and Roasted Red Pepper Aioli" servings="2-4″ time="35mins" difficulty="easy"]
Ingredients
ciabatta bread 1/2 loaf
olive oil 1 tbsp
hardwood smoked bacon 5 slices, cooked
sharp Cheddar cheese 4 deli slices
Swiss cheese 4 deli slices
vine-ripe tomato 4 thick slices
iceberg lettuce 4 leaves
olive oil 2 tsp
lemon juice 1/2 tsp
mayonnaise 1/2 cup
garlic 1/2 bulb
red bell pepper 1
olive oil 1 tsp
Directions
Roasted Red Pepper and Garlic Aioli

Preheat oven to 350. Coat half a bulb of garlic with 1 tsp olive oil and sprinkle with salt and pepper. Wrap in aluminum foil and place on center rack in oven for 35-45 minutes, or until cloves are roasted and soft. Let cool.
Turn oven to broil. Cut red pepper in half and remove seeds. rub 1 tsp olive oil on inside and outside of both halves. Place on a broiler pan and broil for 10 minutes, or until peppers are charred all over and softened. Immediately place in a paper bag and seal tightly. Let sit for 15 minutes, or until cool.
Squeeze cooled garlic cloves into the small bowl of a food processor. Remove the skin of the peppers with your fingers. it should peel off fairly easily. Add peeled peppers to bowl with garlic. Add mayonnaise and lemon juice and process until smooth. Refrigerate until ready to use.

BLT

Preheat oven to 350. Using half a loaf of No-Fail Ciabatta Bread, cut the half-loaf in half (creating two roughly 6″ x 10″ pieces of bread). Slice each piece crosswise, creating two top and two bottom layers. Brush cut-sides of all four pieces with olive oil and place cut-side down on a baking sheet and toast in oven until cut sides are toasted and golden, about 10 minutes.
Spread a thin layer of aioli over all cut-sides of bread. top bottom halves with bacon and avocado slices. Cover with cheddar cheese slices. Layer lettuce, tomatoes, and Swiss cheese on the two top halves. Place sandwiches in oven for 10 minutes, or until cheese is melted. Let cool 3-5 minutes before slicing and serving.

Recipe Notes:

These sandwiches were huge, so I served 1/4 sandwich per person. Depending on how big your ciabatta loaf is, your sandwiches may not be so monstrous, so two halves may be appropriate.
This is an original recipe by Glory Thorpe of Foodie*ish and was originally published on Foodieish.com. All content and photos ©2015 Foodie*ish.  All Rights Reserved. 
[/recipe]
---
[wysija_form id="4″]