03/29/2015
Drool-worthy Dishes from Across the Web 3/23-3/29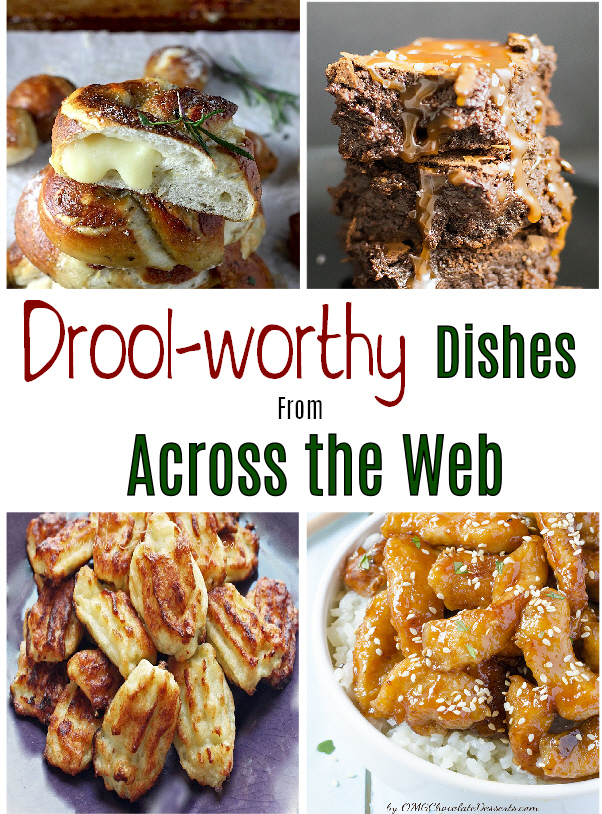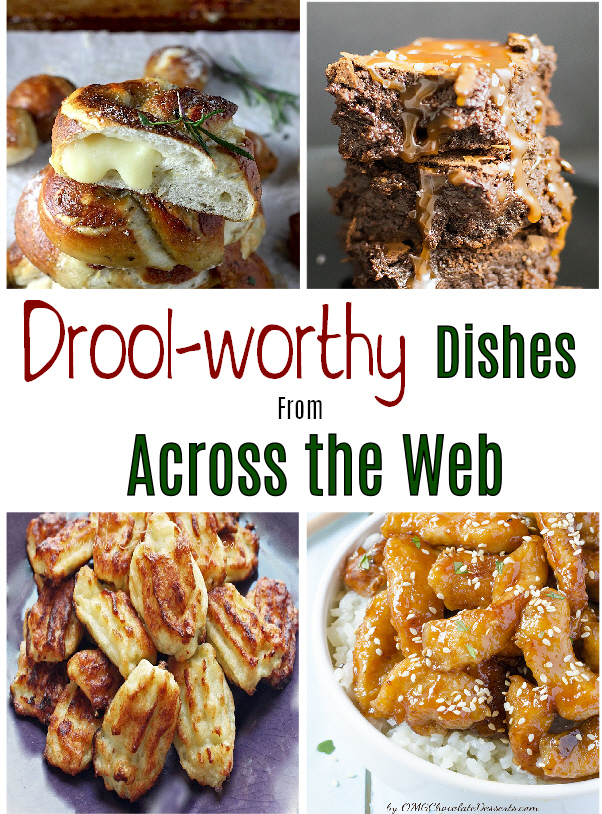 Good morning ya'll!  It is Sunday, which means it is time to check out the most delicious looking dishes that I happened across this week. It is also the day I go grocery shopping… and I can't wait to get ingredients for the dishes I will be featuring this week: Chipotle Lime Shrimp Bowls, Smoked Sausage and Gouda pizzas with Apricot-Onion Jam, Spicy Orange Chicken Cutlets with Wild Rice, and Avacado and Marinated Heirloom Tomato Ciabatta Bread Sandwiches. Ohhh… and I have a top secret dish that I will hopefully crank out by today's end. Top secret, because I don't want anyone to snag my idea and also… not sure this is gonna work out. So… secret. 😉
But for now… Let's get drooling, shall we?
I don't have much of a sweet tooth. I typically crave pasta as opposed to desserts, but those three little words: Salted, Caramel, & Chocolate always… ALWAYS stop me in my tracks. And these heavenly-looking salted caramel brownies from Homemade Hooplah… I mean, for real? This exists? I NEED this. Like now. And pretty much everyday from now on.
When I came across these pillows of perfection (as I will forever refer to them) I literally smiled. These Mozzarella Stuffed Rosemary and Parmesan Soft Pretzels combine two of my most favorite of favorite things: cheese and bread. And look how ooey and gooey they are!! OMG. I'm pretty sure these are going to become a Sunday football staple.
I am a little obsessed with mac & cheese. Like a lot a bunch. If I had a food scrapbook, I would fill it with photos of macaroni and cheese, and this little ditty by Shugary Sweets would be on the cover. This copycat Panera macaroni and cheese looks like some of the tastiest, most perfectest mac and cheeses ever. Like, ever ever.
I'm not sure why I never thought of this on my own, I mean my kids LOVE pizza. They would eat it everyday, for every meal. And these little pizza puffs from Plain Chicken make a pizza snack super easy and perfect for small hands. Brilliant!
I started following I Breathe I'm Hungry long before I started blogging because it is the absolute best source available for low-carb and gluten-free recipes. Plus the photos are amaze-a-licious.  These cauliflower tater tots not only look totally yummy, they are a really healthy alternative to starchy potatoes. I have nothing against potatoes… but I'm saying, these cauliflower tots kinda give the tater a run for their money.
So… yeah. Do you see that cheesy perfection right there? Yeah. That. That is what I am missing right now. A giant dish full of that. And gnocchi… Come on! Does it get any better? I haven't made gnocchi in ages because my husband isn't a fan, but I bet my bottom dollar he would get behind this. Behind it, because I will be running away with the dish and he will have to chase me down to get any.
This looks so perfect it could be on the cover of a food-porn magazine. Plus, the actual recipe sounds so perfectly delicious… this is going on my menu this week. I'm not even gonna try to make it mine. I'm gonna follow this one to a T because sometimes you just can't mess with perfection.
So that's it for this week's drool-worthy dishes. And now I am starving and am going to the grocery store. This will not end well. 😉 Be sure to leave a link to your favorite drool-worthy recipe in the comment section below. I can't get enough delicious inspiration.
*All photographs and recipes are copyrighted by the respective blog owners featured. Follow the links to see the full article and recipe on the blogs featured.